July 26th, 2009:
On our way home last weekend (we had spent the night at Jenny's in Kelvington) we stopped at Archerwill for an auction sale. The sale was a bust as far as I was concerned, but I got in a nice visit with Ken and Joanne Folstad, Vivian Broberg, and Burk Gardner. Ken told me that Karla has been busy on a committee putting a park in Archerwill. Ken had donated a couple of building lots and the committee built a big gazebo and put in somelawn and plantings. It can't be seen from the highway, but I got directions to it –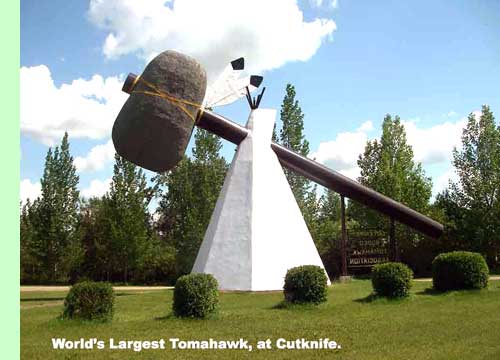 a block south of the Co-op store, or a block west of the greenhouse. We were amazed – it is an absolutely beautiful little park, a real jewel in the heart of town, and I hope the people of Archerwill are proud of it. Drop in and have a look next time through Archerwill – you'll be glad you did.

We left for Alberta with our motor home last Tuesday morning; stopped at the casino in North Battleford and made a few dollars, then met up with Cathy and Freckles in Cutknife. There, I got some pictures of the World's Biggest Tomahawk. We spent that first night at Wainwright.

After a tour of Wainwright's excellent museum the next morning, we went on to Wetaskiwin, and visited the Reynolds Alberta Museum. It has two parts – a Pioneer Museum, and an Aviation Museum. We went a long way out of our way to visit the Aviation Museum, because they have a full-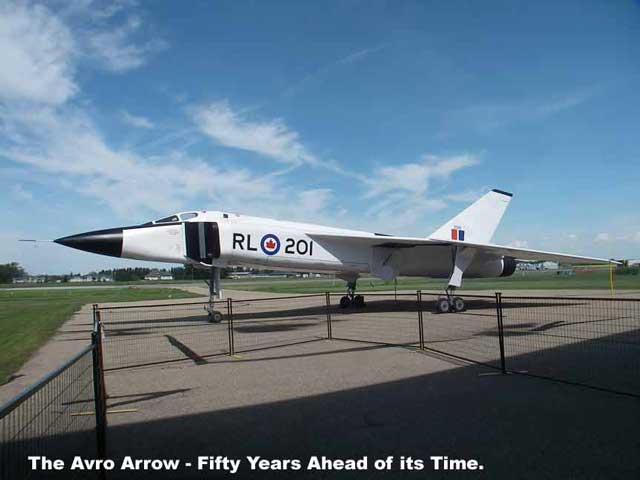 sized model of the Avro Arrow on display. Remember it? A fighter jet designed and built in Canada back in the fifties and far ahead of its time.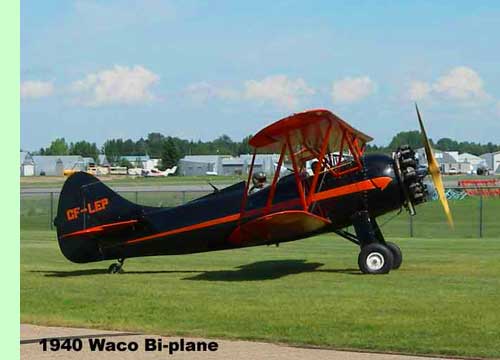 It never got into production but a prototype was test-flown. The whole program was abruptly cancelled by Prime Minister John Diefenbaker and all models, blueprints, etc. destroyed. A horrible waste of time and money, and the loss of a real feather in Canada's cap. Luckily, enough was saved so that we know what we missed.

We stayed overnight in Wetaskiwin, then went on to Sandy's and Blaine's on Thursday, parking our motor homes in the shade in their yard. Freckles was in seventh heaven, because the yard is fenced in and he had the run of it and didn't have to be on his tether.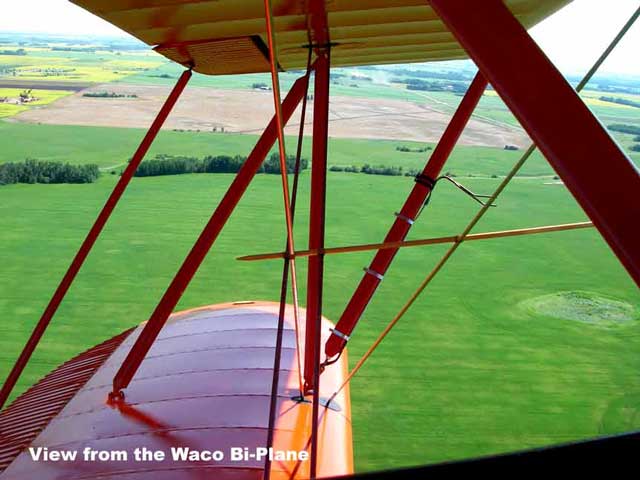 Surprise! Sandy and Blaine had bought us all tickets on the Alberta Prairie Railway Excursion that runs from Stettler to Big Valley, so we went to Stettler on Friday. The train was eight or ten old coaches pulled by a 1920 Baldwin-type steam engine, a 2-8-0 for those who are interested. It was originally a coal-burner, but was converted to oil in the '80s. Good thing, too – they might have had trouble finding someone who would shovel coal on such a hot day.

There was a baggage coach converted to a souvenir and refreshment shop, another car converted to a bar, with live entertainment, and another converted to an observation car; no seats, just big, open windows. There was also a caboose, right behind the engine on the way down. On the way back, the engine just switched to the other end of the train and backed up all the way.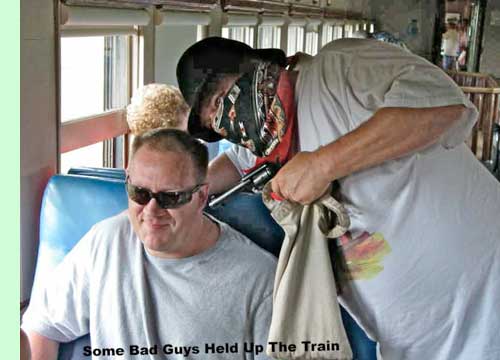 The ride was about one and a half hours each way, at an average speed of about fifteen miles per hour. The track was only sixty five pound steel (about what used to be used for elevator tracks in my day on the railroad), and quite rough, so they couldn't go too fast. Temperatures got well over 30° so before we got going, the sunny side windows were covered. Once we got moving, the curtains came down and the windows were opened.

Near Big Valley, we were attacked by a band of outlaws on horseback, shooting pistols and demanding money. One outlaw was in the coach (it was an inside job) and went from seat to seat demanding money and threatening to shoot everyone. He was just a big ham and kept posing for pictures. He was lucky nobody stole his gun. In the meantime, a grizzled old cowboy got off the train and began shooting outlaws, dropping every one in his (or her…a couple of them had pretty long hair) tracks. The horses were well-trained and just browsed while the killing was going on. He finally captured the outlaw that had been on the train by trapping him in an outhouse. He didn't do a very good job of killing, though, because as soon as he was out of sight, the dead outlaws came to life and rode away. I mentioned that to him at supper, and he said it was because the white people sold him inferior ammunition.

We had two and a half hours in Big Valley; there were the usual tourist traps which were browsed in a desultory manner – it was just too hot to get interested in shopping. Eventually, we made our way to a big community hall, where we had an excellent buffet supper of roast beef and trimmings. It was also very comfortable in the hall, so we lingered until time to go back to the train.

On the way home, the staff passed out cold, wet face cloths which we used to wipe our heads and necks. Felt good!

What a wonderful birthday present!