August 9th, 2009:
Sandy sent us some pictures taken the Sunday after we left their place near Carstairs; they had a wild storm that punched holes in their vinyl siding, wrecked Sandy's potted plants, and blew over a very large tree close to their house. Sandy figures if our motor homes had still been there, they would have suffered severe damage.

After a two-day rest from our Alberta trip, we started out for Manitoba. Just can't seem to sit still.

We took Highway #48 from White City to Kennedy, where Lloyd lives.

On the map, it was just a thin black line, but we wanted something different, so took a chance. To our joy, it was a very good highway, although the last bit, from Kipling to Kennedy, was narrow, with no shoulders.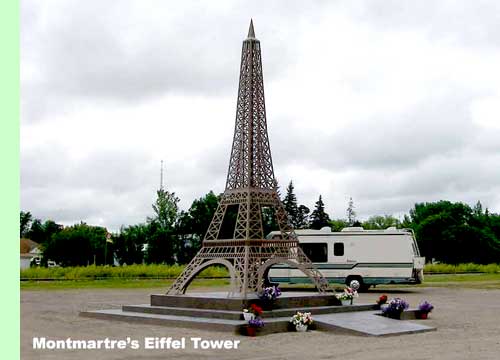 I can't say it was a very scenic road, though – a pipeline was being constructed, and almost the whole way there were piles of raw clay dug up for a trench to lay the pipe in. Where the pipe had already been buried the piles became mounds. In some spots, the clay piles had weeds growing on them, indicating that the trench had been dug a month or more previously, which surprised us. I thought they would dig some trench, lay the pipe, and fill it in. Fifty or more miles of open trench seems to me to be lawsuits just waiting to happen.

We stopped at Montmartre's Regional Park for a night; quite a nice little park. We also admired their Eiffel Tower at the north side of town.

Mike and Marg had motored down to Kennedy for the day, so we had a nice gathering at Lloyd's place in Kennedy. We met Cathy there, too; she had taken a different route from Alberta and stayed with family at Regina for a couple of days before proceeding to Kennedy.

On our way into Carlyle, we saw a sign advertising ice cream – next left. At the bottom of the sign was a line reading: "Scream until your Dad stops!"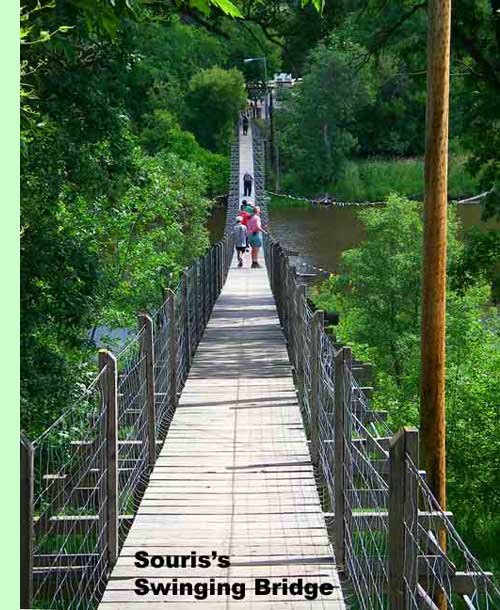 We actually swatted a few mosquitoes at Souris, but very few. We don't know if it is the drought or not, but have run into practically no mosquitoes or other noxious insects all summer. Seems to me last summer was remarkably free of the little varmints, too. Our campsite was close to Plum Creek, which was almost stagnant, yet no mosquitoes. There must be a hundred geese making their home along Plum Creek within Victoria Park. Reminded me of Greenwater Lake at the end of June. Do geese eat mosquitoes?

We spent a couple of glorious days at Souris, visiting with relatives that we don't see often enough, walking around town, and walking across the swinging bridge which was hard work, because I couldn't get the rhythm right. People like my uncle Harry and cousin Brian walk across it daily so they must be able to get into a rhythm. The bridge was first built in 1904; it was demolished in a flood and rebuilt, maybe about 1976, but is pretty true to the original bridge. It's a great tourist attraction for the town.

From Souris, we went to the Welcome Stop Campground west of Headingley, with a stop at Glenboro, where we ate our lunch in the shade of Sara, Glenboro's camel. Sara is symbolic of Manitoba's only desert, a few miles north of Glenboro in Spruce Woods Provincial Park. We visited there a couple of years ago – the desert isn't very big but it sure is a desert, with some very impressive sand dunes.

We like to have a banana with our morning cereal, but bananas don't seem to last long in the motor home. Recent intelligence, though, seems to have solved that problem. Doreen read that bananas should be cut apart from the bunch, so each banana is separate, for longevity. Also, she heard about some green plastic bags for keeping veggies fresh. She now buys green bananas, separates them from each other and stores them in the green plastic bags. Seems to work!