November 22nd, 2009:
Quite a string of warm, mostly sunny days; in fact, we broke all records on one or two of those days. I think it was Tuesday that the temperature got up to +16°C here in Saskatoon, and higher than that in Regina. Today was colder, barely over zero, and the forecast indicates that our warm weather may be at an end.

I e-mailed Millers at Greenwater to see if the lake has frozen over yet, but I think I know what the answer is going to be. Blackstrap and Buffalo Pound were wide open Friday, and I suspect Greenwater is, too. I checked back to my records and the latest it has frozen over since about 1992 was November 30th, in 1999. It's almost the end of November now, and the lakes aren't even crisp around the edges. Keep tuned in.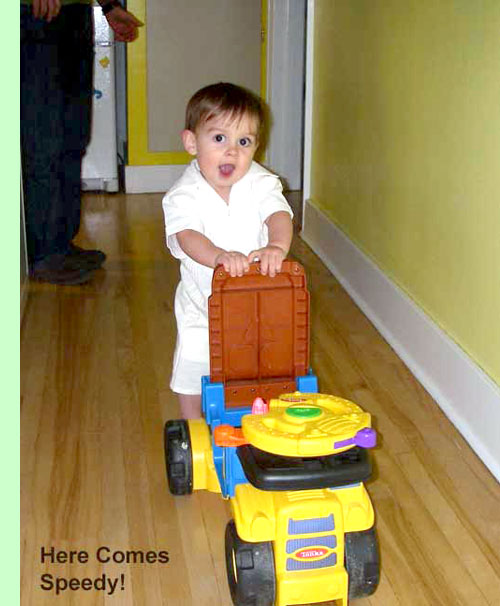 We trekked down to Moose Jaw on Friday – it was our great-grandson Atticus' first birthday so we had a little party for him. His mom and dad, Randonn and Sean, his maternal grandmother, Donna Swan, his paternal grandmother and our daughter, Sandy Cisna, his aunt Sheryl Kopchuk, who came from near Toronto for the occasion, his great-aunt, Lucille Malyk, and Doreen and I. Oh yes, there was Akira, their 125-lb. Akita dog, and once in a while a cat would wander by. The animals are a little afraid of Atticus though, and tend to stay out of his way.

Atticus was in good form, very good-natured but a bit shy. He did let me give him a hug before we left, though. He isn't quite walking unless he has something to hang onto, but he has a big toy car that he can push while standing up, and he pushes it up and down the hallway at great speed. He is the spitting image of his dad at that age. (His dad, Sean, is our first grandchild.)

He enjoyed ripping the paper off his gifts, but wasn't quite sure what to do with the actual gifts. Sheryl gave him a drum, and I'm quite sure he will learn how to use it very shortly, unless it meets with an accident.

We saw two combines parked in a field on the way down, but didn't see a single one working. Nor did we see any sign of unharvested fields – no standing crop, no swaths, and not even any unbaled straw. We did see straw pushed into bunches for burning in one field; likely flax straw.

It was dark when we drove home. When we got to the north side of Blackstrap, we could see lights shining up into the sky to the west; it took a moment but then we realized that they criss-crossed, looking for all the world like the poles of a teepee. It was the Dakota Dunes Casino – I hadn't realized we were so close to it. They shone quite impressively on the bottoms of the clouds.

Yesterday, after breakfast with our Sunseeker friends, some shopping, lunch and a nap, we went to an art show and sale at a church south on Lorne Avenue. It was like old home week – first people we saw when we went in were Christine Korchinski and her sister, Teresa. They are daughters of friends of ours from Kelliher, Harry and Kay Moleski. We got acquainted with Christine and Bruce when they lived at Porcupine Plain, back in the early eighties, and saw them again at the Kelliher Reunion, last summer. Chris had a display of very impressive photographs, and Teresa had pottery and clay work.

Back in the corner with a display of jewellery was Donna Fedyk, sister to Rose Steadman of Greenwater but originally from Jasmin. She went to school in Kelliher with Christine and Teresa. We had met Donna on several occasions when she visited Steadmans.

Jim Davis was there with a large display of his great photos and we had a visit with him. We met Jim at an art show at Prairieland Park, and again at one nearby last June. I always enjoy seeing his work. There was another photographer, Ken but I'm afraid I can't recall his last name.(Tickner) All three of them do great work, but each's work is totally unlike the others. One of Christine's that really attracted me was a foot wide and four feet tall, a colour photo of a line of power poles. Beautifully composed! And she took the picture with a five megapixel camera, small by today's standards. When you go shopping for a camera, don't get bowled over by huge megapixel numbers – they don't necessary lead to better pictures.