February 14th, 2010:

No Report for the past two weeks! Life has been so wildly exciting I just haven't had time to write. Why, just last Friday, having coffee at Reggie's with some of my buddies, we noticed a light post vibrating like crazy. That kept us busy almost the whole coffee break speculating on whether the wind could be so strong it would make the post vibrate.

Yep, that's the way our life has been – up Monday morning, off the the Field House and get in our token mile-and-a-half walk, ten minutes on the rowing machine, then coffee with a group of men, two of which are now ninety-five years old. They make us kids (still under eighty) feel like pikers.

After lunch, I have a nap and Doreen reads. If I wake up in time, I go to Reggie's for coffee.
Tuesday morning, we sleep in until about 8:30, then go to the Co-op for coffee with a different bunch of friends. The wives go too, and sit at a different table. That lets the conversation at the men's table run wild.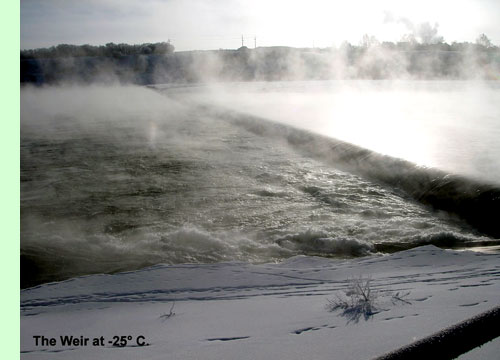 Tuesday afternoon, it's nap time again, and if I wake up soon enough I go to Reggie's again. Joyce and Ron Weber are regulars at Reggie's, and Don and Marilyn Breker are semi-regulars. They would be known to Greenwater people.

Wednesday, it's Field House again. After our walk, Lucille comes with us and we go to Market Mall where I have coffee with the Wynyard/Foam Lake bunch and the girls go shopping. This usually leads to having lunch at a cafe and possibly more shopping afterwards. I keep a puzzle book in the car, since I am just the driver – I don't shop.

Thursdays, we don't do much of anything; in fact, last Thursday I spent the entire day playing solitaire on the computer and listening to music that I had downloaded. It's mostly old stuff, all the way back to the forties. Songs I once enjoyed and will likely tire of very quickly. Of course, I did squeeze in a nap.

Fridays, it's the Field House again, nap after lunch, and coffee at Reggie's.

Saturdays are special – we meet at the Travelodge for breakfast with our Sunseeker buddies, and that is always a great time. If there is something on at the Prairieland Park, we will take it in in the afternoon, or do a little last minute shopping. Yesterday, it was shopping, but as a bonus we had a long coffee break with Bev and Rick Warbanski, formerly of Porcupine Plain and Wynyard.

On Sundays, we have a well-deserved rest after such a busy week. I do manage a nap, and coffee at Reggie's.

This week was more exciting. We had a family brunch at Johnny Boy's, with twenty-two children, grandchildren and great-grandchildren. We try to do this every month; otherwise the cousins never see each other.

On Monday, we had some friends in for a game of bridge in the evening – the men got whomped good, after a promising start.

On Tuesday evening, we were invited out to a friend's place for supper, four couples all together, and that was a great evening.

Wednesday, we went to another production at Persephone Theatre; were picked up by taxi and taken to Parktown Hotel for dinner, then to the theatre, and home again after the show. It was a great show - "Home Ice" - and starred the beauteous Andrea Menard and our weatherman, Jeff Rogstad. The other two players were unknown to me. It was about a young couple – he was a carpenter with his own business, but prone to making promises for renovations to their house that didn't get kept because of his obsession with hockey, being an Oiler fan. She was a slightly pregnant and extremely lovely photographer, whose patience was limited. He had a friend that she hated – something about destroying their wedding cake. The friend was a role that would be well filled by John Belushi – 'nuff said.

Anyway, you can see why I just didn't have time to write a column.