July 4th, 2010:
A lovely day! No raging storms or floods makes it a nice day. Seems to me hardly a day goes by lately without a major weather event. We're lucky where we live – we are on quite a little knoll and the water runs away in all directions. As far as I know, nobody has ever had water in the basement here.

Doreen is a brochure-aholic. Whenever she is in a tourist booth or similar place, she scours the brochure rack for interesting material. It doesn't matter what the topic is, Doreen has a brochure about it. She has so many brochures she can't always find what she is looking for, but she does find some great stuff sometimes.

It doesn't always work – I remember one trip in the south-west where we travelled miles over country roads looking for a craft and tearoom. We finally wound up in a vacant farmyard. Luckily, there was a man there loading a grain truck from a granary. He told us the tearoom hadn't functioned for about three years, yet Doreen had just picked up the brochure that week! In other words, phone ahead.

She found a dillly this year, though. Somewhere, she got wind of a museum in Radisson, SK, just and hour or less north-west of Saskatoon. Three private individuals, Norm Hiebert, Barb Cousin and Kirk Maxwell, had bought a United Church building in Radisson and converted it into a museum, and it's a good one. They use both main floor and basement, and both are full of artifacts owned, loaned, or donated.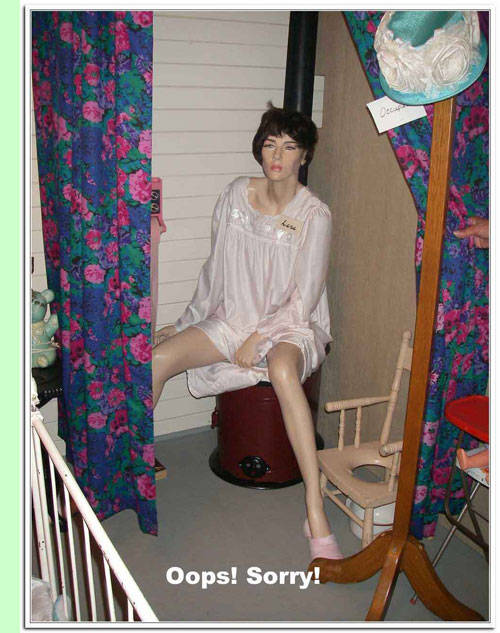 In most museums, you are confronted with signs warning you not to touch stuff or it will self-destruct; at the Radisson Zion Museum, you are encouraged to handle stuff if it interests you; walk behind the counter of the old general store and check out the products on the shelf. Sit in that old rocker; move the curtain and spy on the lovely lady sitting on the can.

In the basement, one end is set up like an old cafe with a counter and stools; on occasion, they will serve you coffee or even milkshakes; in fact when the town's cafe was closed for an extended period, the Museum became the coffee shop and gathering place for the town's seniors. School groups will visit from Saskatoon and be treated to milkshakes before they leave.

But the finest attraction they have is the personalities of the principles – they greeted us at the door (we had phoned ahead), showed us around and explained how they operated, then let us browse to our heart's content. We found ourselves seeking them out more and more, as much for the conversation as for information. When we had seen all we could absorb, they made coffee and joined us in the basement cafe for a terrific visit. We had planned on about a half-hour there; we finally left two hours later.

What a great place for a day trip from Saskatoon! We are planning to arrange a tour for our travel buddies, the Sunseekers. The principles have jobs to support their museum habit so the hours are necessarily limited. They are open from May long to September long weekends; Wednesday from 1:00 pm to 5:00 pm, Saturdays from 1:00 pm to 5:00 pm, and Sundays from 11:00 am to 5:00 pm, or by appointment. Phone Barb at 827-2117, Norm at 827-7748, or Kirk at 827-2203, or you can e-mail barbieinradisson@hotmail.com.

We stopped there on our way to Battleford with another couple; at Battleford, we visited the Allen Sapp Gallery, then went to the Casino. The others did a bit of gambling while I caught up on my sleeping and reading. We settled in at the Eiling Kramer Campground at Battleford, a very nice campground.

Next day, we stopped in at the Crooked Bush, as our travelling companions had never seen it. We took a different road than formerly; Flint Road, just west of the Speers turnoff, sixteen kms north then three east. Pretty good gravel all the way. There was a huge field sprayer outfit parked at the Bush, working on the field just south of there, but it didn't bother us. I'm afraid the Bush is showing its age. Many branches are dead and broken, others are barked and don't look as if they have a lot of time left. There is quite a bit of new growth, though, especially around the outside, so maybe the bush has a future. I hope the drift from that field sprayer doesn't hurt it.
.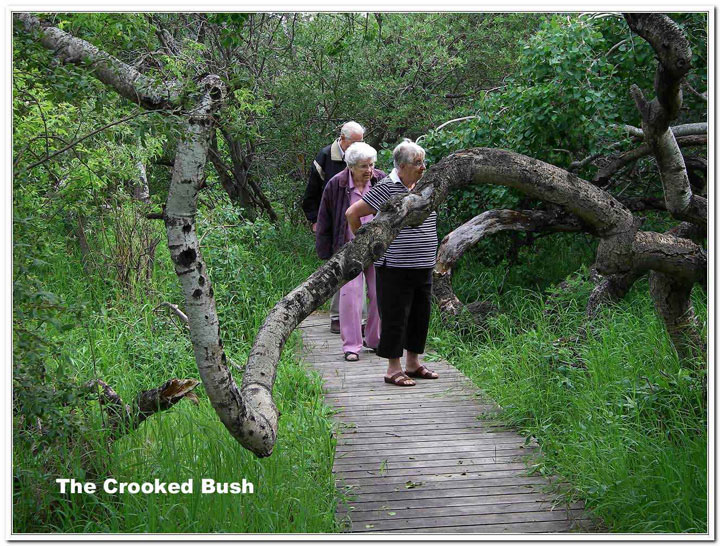 There are signs there asking people to stay on the boardwalk and not damage the trees, but in one piece of tourist information Doreen showed me, there was a picture showing a couple of kids in the bush, one of them sitting on a horizontal branch. Great advertising!

From there, we travelled on to Memorial Lake Regional Park, at Shell Lake, where we spent the weekend with the Sunseekers. We got a deluge Friday morning for a couple of hours and wound up with a small lake just outside our door, but otherwise had a great time. What a lovely park, and right beside town.