August 8th, 2010:
Wow! I just realized it has been over a month since my last report – how time flies when you are having fun!

Last report, I mentioned we spent a few days with the Sunseekers at Memorial Lake (at Shell Lake, SK). A lovely park; we were in the group area and had the use of a huge summer shelter, plus we each had power. It was easy walking distance from town for groceries, etc. We even went to a church service featuring a bluegrass vocal group on Sunday. It was in a unique building – the Anglicans moved their church physically and attached it to the United church and now they have a nice, big building and combined congregations. We enjoyed a very nice lunch afterwards, and visited with the locals.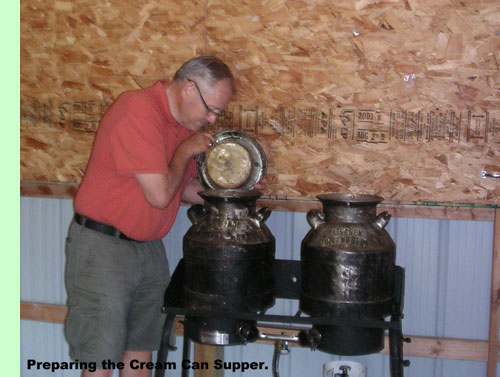 High point of the outing was a cream can supper on Saturday night, cooked by our good friends and neighbours, Jim and Gerry Fairburn. They put ears of corn, potatoes, onions, ham and sausage in two cream cans with a bit of water, wired the lids shut, and put them on a gas stove. Once steam started showing up, they timed the rest of the cooking, then opened and emptied the cream cans. Delicious!

Just a week later, we packed up again and went to Douglas Provincial Park, on Lake Diefenbaker, where we met our daughter Sandy. Her son, Sean, his partner, Randonn, and their son Atticus came up from Moose Jaw and we had a wonderful visit. My sister, Cathy's, daughter Coby and her husband Brian just happened to be holidaying at the park too, so we had several great get-togethers. We spent five days there altogether.
.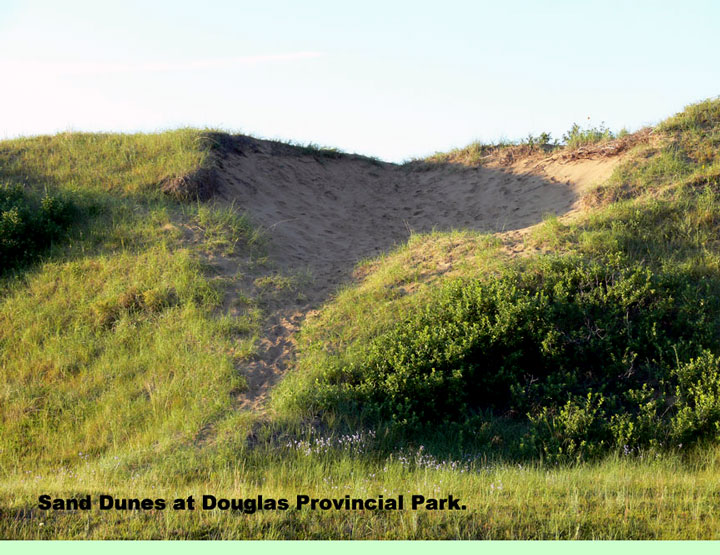 Since we had to pass right beside Dakota Dunes Casino both going and coming, we stopped so that Doreen could have a flutter. She made enough to pay for our trip!

We had a little more than a week at home, then took off for Eagle Creek Regional Park, just north and west of Asquith and only an hour out of Saskatoon, again with our Sunseeker friends. We spent a very happy four nights there, with great weather. We loved Eagle Creek, and couldn't help thinking what a great family vacation spot it is. Nice, level campsites with power and good water, hiking trails, great scenery, and heaven for young kids. The creek is live and clean; there is an iron bridge over it with a swinging rope tied to it and a beach close by. Kids love to dive from the bridge into the creek. They can explore to their hearts' content without fear of getting lost; the Park is in a valley and there are several big houses right at the crest of the hill to use as landmarks. There is also a good-looking mini-golf, and a concession that serves good food. They catered a roast beef supper for us on Saturday, and it was excellent. The park is the home of a major Jamboree in late June or early July; you have to book a long time ahead to be able to get a campsite for the Jamboree.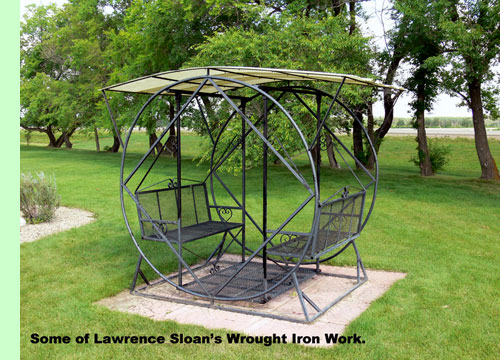 We had a day at home to pay our bills and do laundry, then left for Little Loon Regional park, near Glaslyn, SK (Doreen's home town.) We met my sister, Cathy and her companion, Freckles, there, and spent five nights. The park was so busy we had to dry camp out in an open field, but the weather was great and we did just fine. We love Little Loon Park, and so do our Sunseeker buddies, but they were scheduled for later in August, when we can't attend because of a grandson's wedding.

On the Saturday and Sunday, we followed an Artisans' Tour, places from south and east of Medstead all the way up to Turtle Lake. It was one of the better tours we had been on, with some truly great art and interesting crafts.


There was a bear scare at Little Loon; Cathy liked to walk with Freckles down a road past the lake and the seasonal sites, but was warned off the last day because of a sighting of a bear and cub. The conservation officers had hauled a bear trap in there but as far as we knew didn't catch anything.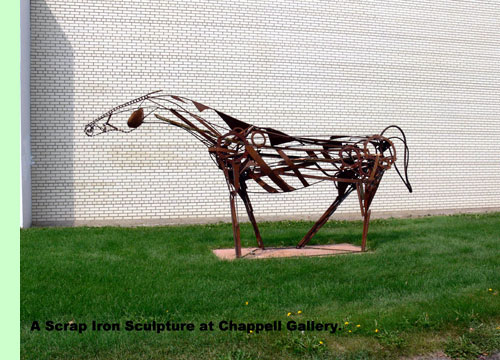 We also spent a couple of nights at Brightsand Regional park, just because none of us had been there before. (Except for Doreen, who had gone there as a kid with a church group, but she couldn't remember anything about it.) The weather was cool and occasional drizzle while we were there; they have a huge beach (top of page) but nobody was on it. That park was full, too, so we were relegated to a group site with no water or power; at least, we had a fire pit and a nice picnic table, which we put to good use.

We spent a night at North Battleford on the way home, mostly to visit the Chappel Gallery, which featured a display of Augustus Kenderdine's art. He apparently was the founder of the Emma Lake School of Art. Beautiful work!

We donated some money to the Golden Eagle Casino and had a very pleasant supper there, then came home the next day.

Believe it or not, we actually have almost two weeks at home before we take off again. Our old motor home is running so well that we hate to see it sitting idle for too long.