January 10th, 2010:
Pretty warm again, after another cold snap. It's -3°C as I write this and mostly sunny. I took advantage of the warm weather to take down our Christmas lights and outside decorations. Doreen had already cleaned up the inside.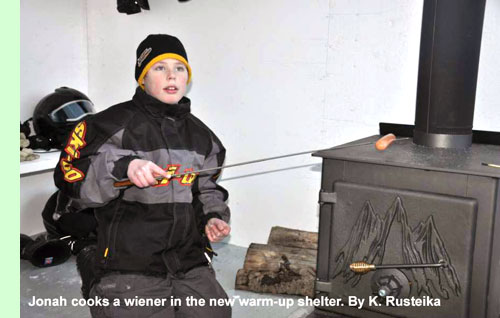 As I was gassing up the other day, I noticed a nail head under my rear tire. At first, I thought it was sticking out of the ground, but on closer inspection realised it was sticking out of my tire. It was a great, big construction nail with a double head. I thought I would just drive it to a repair shop and get it fixed, but it isn't that simple. My regular tire place was closed as it was Saturday; I phoned Kal Tire on 8th Street and they said there was no way I could get into their shop because they were so busy, but if I would take it off the car and bring it in, they could fix it that day.

Not quite that simple. With Blaine helping, we got the jack out of the spare tire compartment, got it placed and lifted the weight off the tire, but no lug wrench. Since I had never been into that compartment since we got the car five years ago, I can only assume it never did have one. With my little socket set, we couldn't budge the nuts.

Off to Canadian Tire for a lug wrench. I got one marked "Ford", brought it home and it didn't work, (Our car is a Ford Taurus). Back to Canadian Tire and exchanged it for one marked "General Motors". It fit just fine and I soon had the wheel off.

I took it to Kal Tire and they said to come back at four; I did and the tire was fixed and ready. When I went to pay for it, they said "Forget it!" I asked how they were going to get rich doing that, and they said maybe I'll come back next time I need tires. I likely will.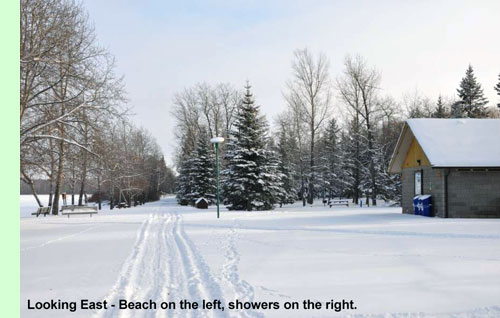 We got a nice e-mail from the Rusteikas, the people who bought our cottage at Greenwater. They had a great time over the holidays, fishing and snowmobiling. They sent me some pictures from their holiday.

We lost a member of our Sunseekers travel club last week; Scotty was also a particularly good friend of ours. Our club members turned out en masse at the funeral yesterday, dressed in our ceremonial T-shirts and vests. It looked pretty impressive, and I'm sure Scotty's wife, Alice, appreciated it. I guess when you realise that the median age of our group is about seventy five, loss of members is a fact of life.

We're back to the Field House three days a week, after a long break over Christmas and New Year's. We got pretty badly softened up since any walking we did during that time was inside the house or from the car to the store, but it's coming back.
Don and Marilyn Breker had a trailer parked at Almi Campground for years and we used to have coffee with them at the Beach Café occasionally. Now they are regulars at the Field House on the same days as us, so we have gotten to know them quite well.