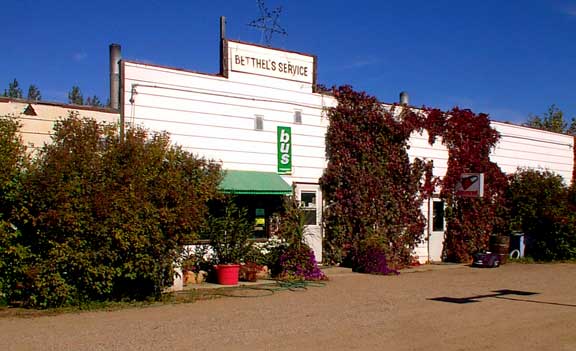 Elephant ears and pickles
FTLComm - Bjorkdale - Friday, September 20, 2002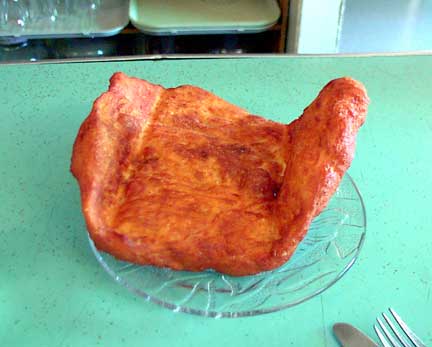 For twenty year Gwen Betthel and her husband have operated their service station and bus stop on the edge of Bjorkdale.

I stopped there for fuel Thursday afternoon because it was the right thing to do. Gasoline in Tisdale is 75.9¢ a litre but at Betthel's in Bjorkdale it is 72.9¢.

Since it was ten after twelve and I had a couple more stops to make today it was a good time to have lunch.

As soon as I went inside I was sure I was in the right place. All three tables were taken and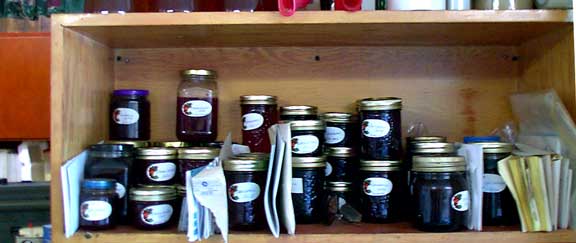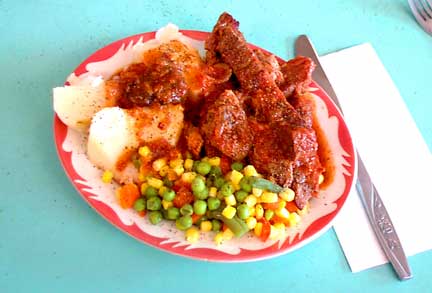 I grabbed a stool at the counter. A young woman asked me what I wanted and I asked her what was for lunch.

Soon I had a bowl of beef and barley soup and she brought with it an elephant ear. A piece of bread dough deep fried, say no more, it was fantastic. With my soup gone she set my meal of swiss steak (small meal) with fresh potatoes and vegitables. When I got home late in the afternoon I simply had forgotten about supper. But what really made me smile was the side dish. A small oval dish filled with freshly made sweet pickles, cucumber, onion and perhaps tomato. This was the kind of dish that not only brought a smile to my face but I laughed at the marvellous flavour absolutely wonderful.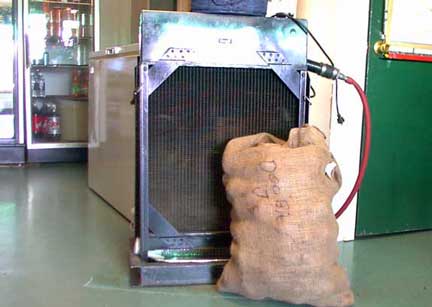 The tables emptied they were hunters and some local folks.

Up on a shelf across from the counter were a set of jams and jellies from local berries all neatly labelled and for sale.

The heating unit caught my eye. A large vehicle radiator with a hot water line and a fan. Smart looking set up.

Gwen Betthel explained that she felt she would miss the place, they are moving to a farm not far from town and selling their business. So before they do better stop in and have lunch, especially the elephant ear.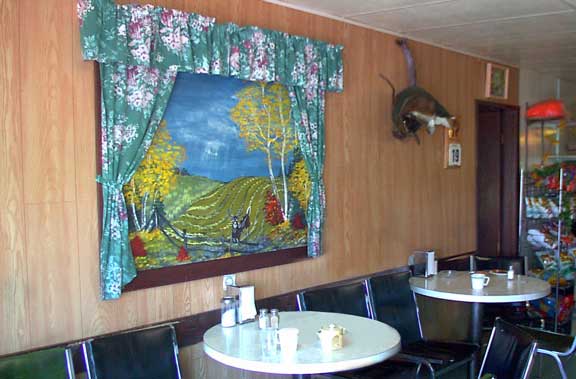 ---
Return to Ensign - Return to Saskatchewan News
This page is a story posted on Ensign and/or Saskatchewan News, both of which are daily web sites offering a variety of material from scenic images, political commentary, information and news. These publications are the work of Faster Than Light Communications . If you would like to comment on this story or you wish to contact the editor of these sites please send us email.
Editor : Timothy W. Shire
Faster Than Light Communication
Box 1776, Tisdale, Saskatchewan, Canada, S0E 1T0
306 873 2004