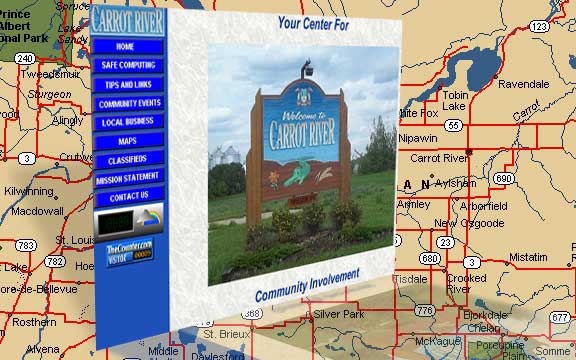 Carrot River's new web site
FTLComm - Carrot River - Wednesday, October 30, 2002
Carrot River's new website came up on line yesterday and has some remarkable features. The very idea of web sites is that they are dynamic functional informational sites and have the ability to be updated and modified easily and regularly. Many people when they start thinking about what a web site should be consider only what it ultimately will become rather than realising that it is and always should be a changing and flexible reflection of what its creators and its users want it to be.
This new web site has some material that everyone using their computer to access the Internet will find absolutely priceless. Kevin and Sandra McIntyre have provided the visitor with outstanding information that takes years of experience to come to terms with and with Carrot River just getting its high speed service there are many new users in the community and this site has the information about the whole process they need to have.
The new site will evolve with business and tourist links, classified adds and already has some really super maps. Definitely an outstanding web project, congratulations Kevin and Sandra.
---
Return to Ensign - Return to Saskatchewan News
This page is a story posted on Ensign and/or Saskatchewan News, both of which are daily web sites offering a variety of material from scenic images, political commentary, information and news. These publications are the work of Faster Than Light Communications . If you would like to comment on this story or you wish to contact the editor of these sites please send us email.
Editor : Timothy W. Shire
Faster Than Light Communication
Box 1776, Tisdale, Saskatchewan, Canada, S0E 1T0
306 873 2004