La Ronge, of Tom Roberts and Beyond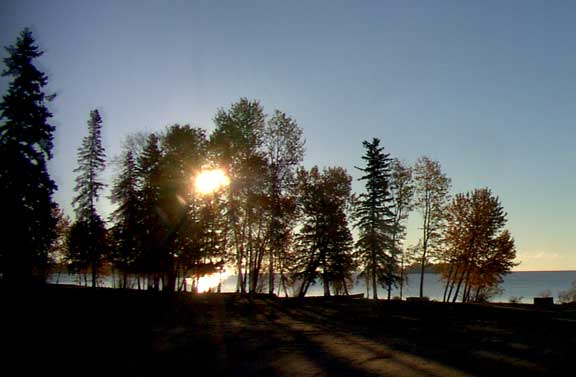 FTLComm - La Ronge - September 30, 2000

On Thursday I went to work as a teacher at La Ronge's Churchill School. After five years of working in front of a computer screen, it was a major shift to find myself before a grade eleven English class. I can just see my regular readers shuddering as they can image the world's greatest speller about to impart his wisdom and guidance to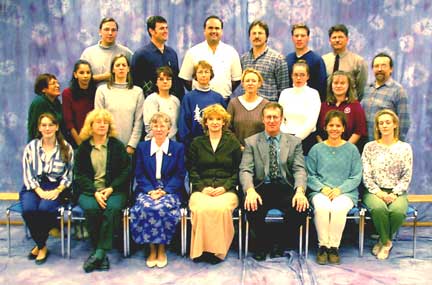 young and impressionable people.

Thursday was the day for the school to have their pictures taken so I was able to click this staff picture so you can see the folks who serve the high school students of this near Northern community.

Churchill school has had remarkable stability in its administration over the past many years. Chris Todd took over from Tom Casper more than a decade ago and this year moved to a challenging role working with a storefront project as Richard Herbert (third from right, front row) came from Battleford to lead this school into the new century.

The funeral for Tom Casper
will take place in Churchill's gymnasium Monday afternoon. He had retired some years ago and while hunting in the Porcupine Plain area had his ATV flip out of the back of his truck while in that loading/ unloading process. After freeing himself from the overturned machine he was able to go for help. He was moved to Edmonton for surgery, suffered a heart attack as complications to
the injury and died in
Saskatoon Wednesday night.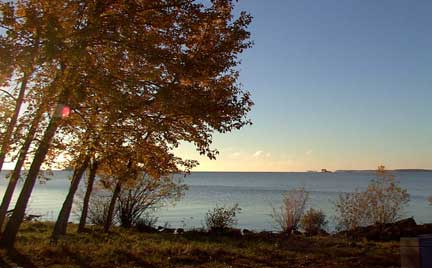 La Ronge, referred to for most of my life as Lac La Ronge is well into the edge of Canada's Precambrian shield where there is little topsoil and bedrock is seen on the surface. These pictures were taken at 8:00 AM Friday morning and show the view that so many Saskatchewan people hear described each weekday morning as CBC's cheerful and wise Tom Roberts comes on the air at 8:55 to tell CBC listeners about what is happening in Northern Saskatchewan.

Though La Ronge seems like part of Canada's North, it really is only a little more then half way between the US border and the province's northern border with the Northwest territories. From these pictures it is pretty obvious that such a place would be a tourist Mecca and so it is, that huge numbers of tourist come through and to La Ronge to enjoy their Canadian vacation.

When you think about Saskatchewan's "frontier" it is appropriate to mention Tom Roberts, because Tom is the sort of individual who best typifies the special nature of this part of Canada. Tom is a fluent Cree speaker but like so many people who live in the northern half of the province, I don't think he is considered "status". This means that he and his family are, though people who's ancestors have lived on this land for centuries, not included in the rights and privileges granted to people who are recognised members of bands who signed the various treaties when Europeans first came to this part of the world.

Tom Roberts is also one of the thousands and thousands of people who was taken from his family in Stanley Mission, as a child and placed in a federally operated boarding school which was a clear and straightforward attempt at cultural assimilation.

But he is also a modern man, who will see his family move into the industries of this era, mining, northern development but despite these changes the central theme to every time we hear his voice, he tells of his appreciation for the rich and wondrous environment that is all around him. He savours this environment, cherishes the bounty of the land, with stories of hunting, fishing and trapping.

But it is what lies beyond that is the most important challenge for the people of this province. During the years of John Diefenbake,r there was a lot of talk about proceeding with development of the Northern half of the province, but since then it has been an unpatterned and haphazard series of mining ventures and roads. The challenge remains.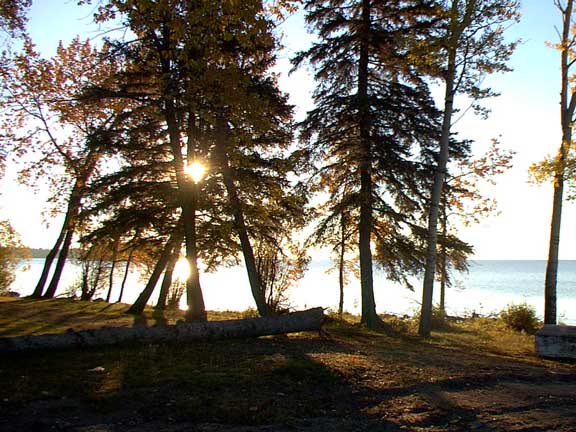 -
-
Dear Readers of Ensign:

We are not going to wind down Ensign because of this change in my life. Definitely Ensign will undergo some minor changes as we work out what parts and projects will flourish and what parts will have to be curtailed but the failure to publish Friday was not a signal of discontinuance.

There was a simple access problem Friday that prevented me from getting it together and uploading. We hope to iron this problem out shortly and though we may have a few days of problems this publication is intended to move onward.

We are not moving to La Ronge but will continue to maintain our operation here in Tisdale and the regular features will continue to appear here on your screens each day.

Sincerely

Timothy W. Shire