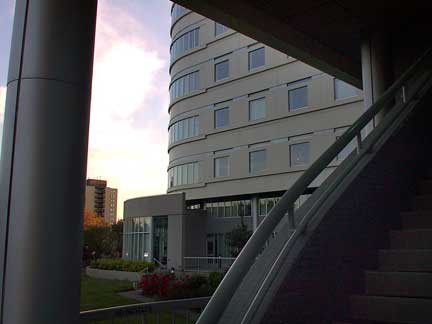 While Regina went from three hospitals to two, one replaced the other renovated, Saskatoon has three relatively new facilities. The University hospital is an outstanding building and the Catholic hospital, though smaller, is modern and attractive. The one that really stands out is Saskatoon City hospital. The setting, architecture and general impression is inspiring.

City hospital is located on the West side of the Saskatchewan River just North of the downtown core area. The building seems to organically flow onto the park landscape in which it is situated and its complex lines and curves make it not only eye catching, but gives the visitor, or the patient a feeling of confidence and competence.

The image at the top of this page is actually five pictures worked together to give you a perspective view of the North Side of the building while the picture above shows a balcony view of a sweeping staircase and the imposing design of the building. Below is a view from the balcony across the park toward Saskatoon's downtown area.