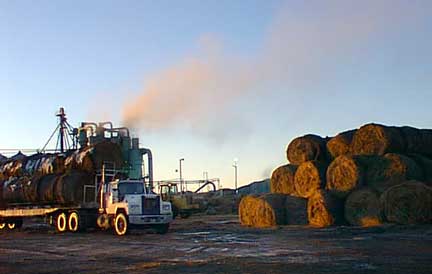 Last year with a bumper crop and more bails then anyone knew what to do with Tisdale Dehydration did its best to sell off as much of the surplus as possible and the summer of 1999 was yet another excellent crop with even more bails.

But it would appear that market conditions have changed because here we are in February and the Dehydration plant has kept in continuous production through the whole winter. At times they have converted bails into cubes to satify that market but right now the bails are going through the regular process making pellets and the rail cars have been coming and going as the product is being shipped to, presumably, the Asian market. The economic crisis that affect Japanese, Korean and Chinese economies is far from over but the tension is relaxed and they have once more been importing a variety of products made here in Canada. From the look of things it is reasonable to assume that alfalfa is one of the things they are buying.

Normal production at the dehydration plants in the area seem to wind down around late November but this year work cotninues around the clock. The large bail stack is one of two that remain as each day more and more are reduced to marketable material. A similar level of activity seems to be going on at Parkland Alfalfa though Arborfield's plant seems still to be submerged in bails from the 98 season.