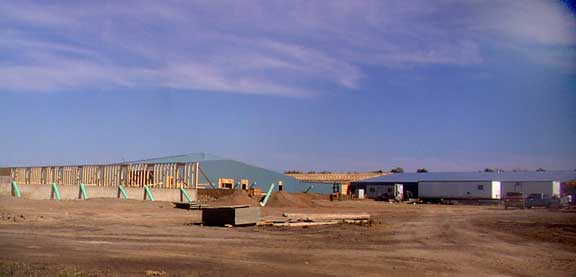 Weekes BigSky Hog Barn
FTLComm - Weekes - Tuesday, July 16, 2002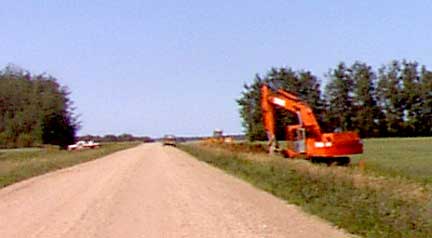 The talk of big hog barns always includes number and production amounts but those abstract terms have always seemed remote and a matter of discussion until yesterday when I drove out to Weekes and looked over the BigSky construction site Northeast of Weekes.

The area is agricultural with a flat vista of Canola fields and barley broken up with the odd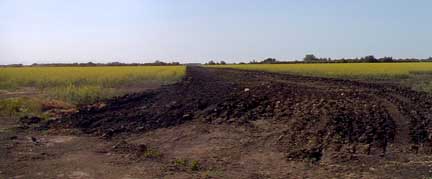 pasture and the Shand Creek but to see industrial development on this scale really makes one think about what all those big number really mean.

We first spotted the second construction site about three miles East of Weekes on the South side of the highway (bottom of the page) where earth moving equipment is being used to create the huge effluent lagoons and reshape the land for the new barn to be constructed on the site. To the South of that site is a large water reservoir which will provide water from the forest to the South. A pipeline has been installed (above) running in the ditch along the grid road then out across fields to the initial barn.

I followed this pipeline across the field, through the rich peat moss soil that will provide the feed for these barns and this lead me into the construction site from behind (below). The plans for the Weekes area involves seven of these big installations with this first one being the "farrowing" barn. They plan to move the livestock from barn to barn from farrowing to final finishing.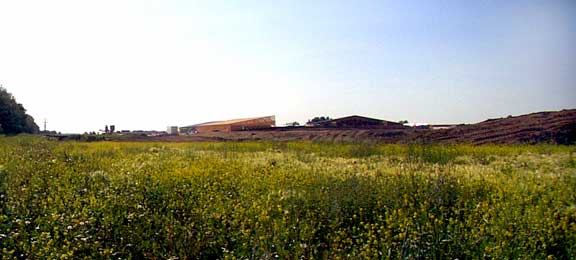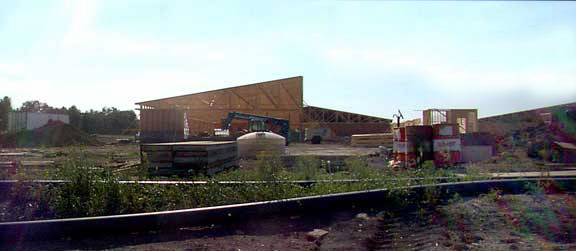 With such concentration of animals the handling of waste is one of the major issues and below seen from the top edge are the two massive holding lagoons. These enormous excavations will soon receive a liner system then the clay from the top will be moved over the liner to protect and secure it in place. Effluent from these lagoons will then be moved to nearby fields for distribution as fertilizer. The size of this earthwork just is not clear in these photographs but take it from me they are "big."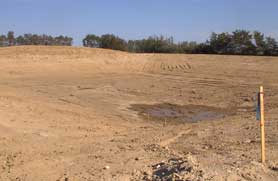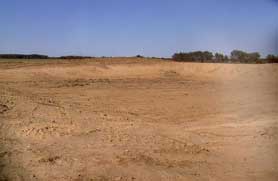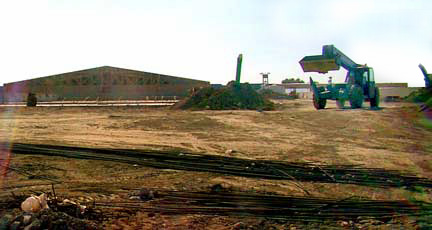 The construction process is steadily moving along and by September of 2003 the first market hogs will be shipped from this facility. Hogs will be moved into the completed sections of the barns as they are being constructed so that part of the barn will immediately in use as soon as construction moves to the next section.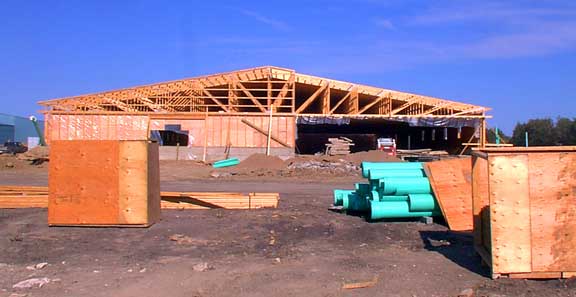 The air exchange system for these barns involves massive exhaust fans in the sides of the buildings which evacuate the air from the barn. By maintaining a huge flow of air the odour is reduced as it is diluted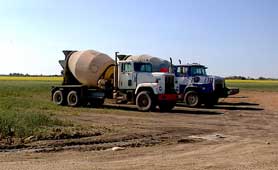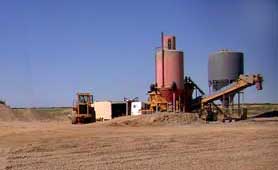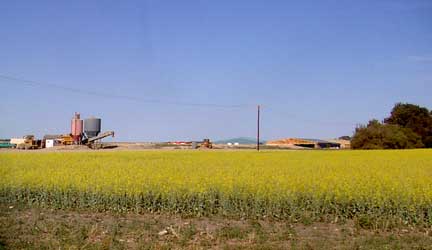 in the extensive volume of air pumped through the buildings.

With a project this size it has three cement trucks and a batch plant on site.

This picture is the West side of the site, the way most people will approach the site looking across a Canola field.

Below is the second barn in the initial earth moving and excavation stages. The second barn will be a starter barn were the whole process of producing a market hog will begin.