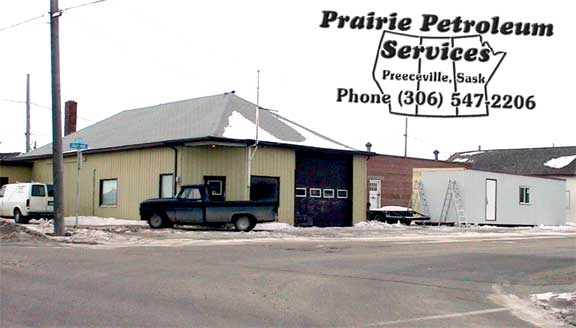 Prairie Petroleum Services
FTLComm - Tisdale - Thursday, March 11, 2004

Northern Steel Industries continues to enhance its approach to the market place. With their sale of above and underground fuel storage tanks they need to be able to supply installation expertise and maintenance once the tanks and systems are in place.

Prairie Petroleum Services has been a sub-contractor for some time but they have established a permanent shop just down the street from the post office. Yesterday an "ATCO" type structure became part of their workplace as it was moved in to provide the company with needed office space.

The quality and environmentally sound Northern Steel products continue to be the premium product in today's oil storage market and as a result of this recognition sales of their tanks span this continent. The integration of systems with the basic tank product is a step upward in carrying the safety and assurance of continued long life to the customer. Customers, who now have to make sure that they are in step with the demands of a more conscientious public of environment concerns.
Return to Ensign - Return to Saskatchewan News
This page is a story posted on Ensign and/or Saskatchewan News, both of which are daily web sites offering a variety of material from scenic images, political commentary, information and news. These publications are the work of Faster Than Light Communications . If you would like to comment on this story or you wish to contact the editor of these sites please send us email.
Editor : Timothy W. Shire
Faster Than Light Communication
Box 1776, Tisdale, Saskatchewan, Canada, S0E 1T0
306 873 2004