Hits and Misses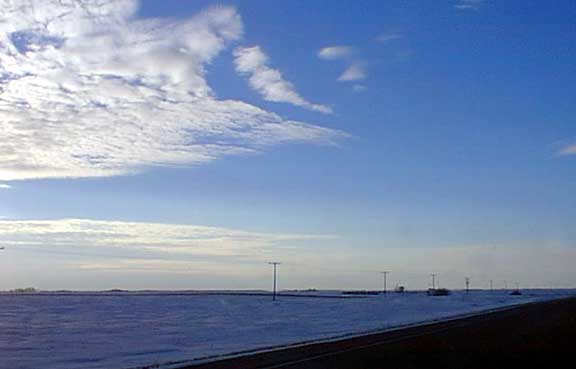 FTLComm - Prince Albert - February 14, 2000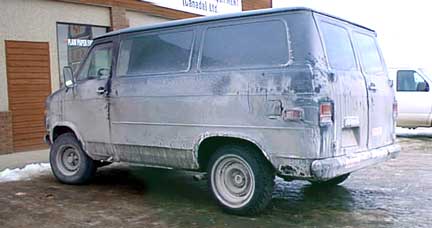 Sunday afternoon was time to drive into and out of Prince Albert and along the way snap a picture or two. The picture at the top of the page is a failure, despite the wide expanse of country in the Kinistino area the small wide angle lens on my camera was not up to the task of capturing a mirage. The horizon in this image is actually above the horizon as the late afternoon sun was playing tricks with the reflected light from the country side.

The picture on the right is clearly the result of an 'a-salt', we all understand the department of highways intent to keep the roads as safe for us as possible but this is a picture of a black van and the temperature at the time was -15 Celcius. If that much salt is on this vehicle image the tons that will have run or been blown off the road surface into the snow in the ditches to be washed into sloughs, fields and creeks. This is an issue that we all should give some serious thought to.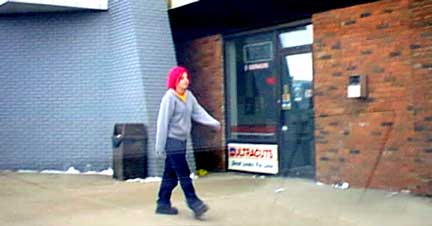 In the past I have avoided snapping images like this one for fear of offending someone but I have reconsidered. It is tough growing up and attempting to create a role for yourself and I remember my sideburns and the pink paint job I had on my bicycle that was such an embarrassment to my father and I remember well that I just wanted people to validate my existence So from now on I am going to attempt to do some validation.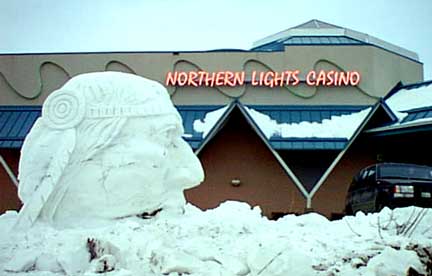 Last year Ensign brought you images of the annual winter festival which was launched yesterday and this marvellous snow sculpture was created in front of the Casino as part of the celebrations. The Prince Albert Winter Festival is the best one in the province with a series of events from February 12 to the 20th. The ice sculpture contest is one of the finest in the province with outstanding artists and groups of artists competing and the festival winds up with ski doo races on the river and of course one of the main events of the festival are the trappers events and the dog sled races.