Saturday afternoon we had the opportunity to tour the trade show, but for a guy who spends all of his time down here in his office working away with screens and servers, the real event was listening to what people had to say. Today, as I strolled down the street and hopped over the puddles, I could still savour the things they told me.

My problem, and I am certain it is a problem that you share as well, is that when we have some insight into what we are faced with in our here and now, the scenes of battle, of senseless waste of property and needless loss of life half way round the world just seems so difficult to cope with and put into context.

Let's begin with Calvin. Now Calvin is a very successful man, a skilled tradesman, an astute farmer and a person who knows how to cope with the complexities of a modern multi-million dollar agricultural operation. While the rest of Saskatchewan has just seen the worst drought ever Calvin's 5,400 acres of grainland was blessed with moisture at the right time and he said that he has just had the best two crops ever. He did lament the fact that canola which was selling for $9.35 last fall is now about a dollar less and he has bins of the stuff. I asked about barley and wheat and he said he did not sell much but has it in storage ready to market when it seems like a good time. There is excellent demand right now for his barley and his wheat is the really good stuff and he said he has lots of it. Calvin was smiling. I had asked him about the newly announced ethanol and cattle production new generation co-op that Tom Lindenback is involved with and wondered if some of the money from that stored up wheat and canola would be investing in that project. Calvin gave me his patented squint and a chuckle "not lots" he said.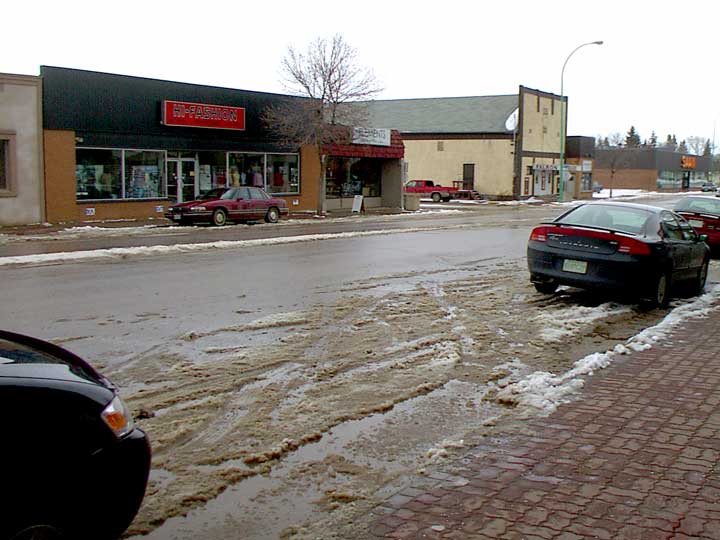 Twenty minutes later we were talking with a neighbour who was going to man a booth for a travel company. She and her husband do a lot of group tours and she was particularly concerned about friends who had been in Texas for the winter living in a fifth wheel. As they made their way home this year they saw gas station after gas station with signs stating they would not refuel Canadian vehicles. The folks made sure they had full tanks where ever they could get gas and were amazed at the hostility toward Canadians by Americans who consider Canada's refusal to fight a senseless war for them, as collaborators. She then told us of friends who live in the Vancouver area who were over in Bellingham Washington shopping and came out of a shopping mall to fine slogans scrawled over their windshield "Canadian go home, we don't need your business."

It seems so absurd that we even think about such things. For most farmers, what is on their minds right now is the need for the snow to melt away and get their combines out in the fields to clean up the crop left from last fall, while many others will just call up the crop insurance people, then plow the stuff under to get the fields ready for this year's crop.

On my walk down to the post office and back today I encountered four R.C.M.P. officiers in three different vehicles. That works out to a citizen to policeman ratio of 250 people for every policeman. I can think of no other service other than education with such a ratio.

In this climate of pro-and anti-American feelings I have speculated if the CIA or FBI decided that this web site was something that needed to be dealt with in a pre-emptive strike would the R.C.M.P. help me or the CIA and FBI?

It was so quiet today as I walked along, slippery under foot, as Tisdale's people went about their business. I was haunted by a recent poll in the United States that discovered 39% of Americans think Canada should be "annexed".

Here we are in our little town safe and happy. Very little poverty, outstanding health care and the freedoms and liberties that no Americans can even dream of. Though we have lots of policeman, they are our friends and neighbours, who's motto is to "maintain the right". Folks here are safe from racial and religious persecution (one in six American kids live in poverty, 41,000,000 Americans do not have medical care), this is a great place to live and yet our neighbours to the South have more than a quarter million soldiers leveling villages and cities for a whole series of excuses all of which have been shown over and over to be bare faced lies.

Iraq poses no threat to us in Tisdale, in fact they were customers of products from here, they had more civil liberties than people in Saudia Arab and no weapons of mass destruction have been found, or used after almost four weeks into a two week war. Red Cross officials report that civilian casualties are around 1,000 an hour, so many that there is no record being kept and surgery takes place without the benifit of anesthetics, as the hospitals are out of supplies. Any torture their dictator might have perpetrated pales by comparison to what the liberators are doing to them.
Return to Ensign - Return to Saskatchewan News
This page is a story posted on Ensign and/or Saskatchewan News, both of which are daily web sites offering a variety of material from scenic images, political commentary, information and news. These publications are the work of Faster Than Light Communications . If you would like to comment on this story or you wish to contact the editor of these sites please send us email.
Editor : Timothy W. Shire
Faster Than Light Communication
Box 1776, Tisdale, Saskatchewan, Canada, S0E 1T0
306 873 2004