Bright Sunlight and Vanishing Snow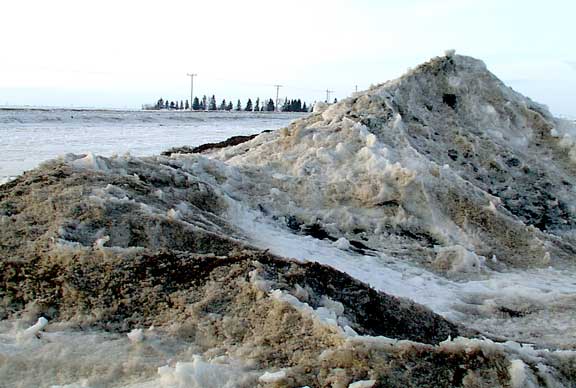 FTLComm - Tisdale - March 4, 2001
Though temperatures have hovered around the freezing point for the past few days the melting process seems to be hustling along without regard to minus zero temperatures. Even today with the sky over cast the sun is heating up the surface and the snow on the ground is vanishing as little bare patches are beginning to appear in the fields near town.

The picture at the top of this page shows a large snow pile on the West side of town and the dirt and gravel in the snow becomes individual little heating plants eating their way through the ice.

The picture below, taken yesterday afternoon shows the surface of the snow shiny as an ice crust forms on the surface. But the folks with snow machines are making the best of the last of the winter's snow cover as they are getting out in full force to enjoy the moderate temperatures and the last scream of two cycle engines over a frozen field.

It is important to note that this part of Saskatchewan has received less snow than it would in other winters prior to the current trend in warm winters. Within a few days most fields in the Tisdale area will be showing a fair amount of bare soild whereas the South East and area around and South of Regina have a much heavier cover of winter's snow. In the Southwest of Saskatchewan there has been a good amount of snow this winter but the warm temperatures they experienced have cause that snow to disappear and most of the fields from Mortlach West to the Alberta border are brown.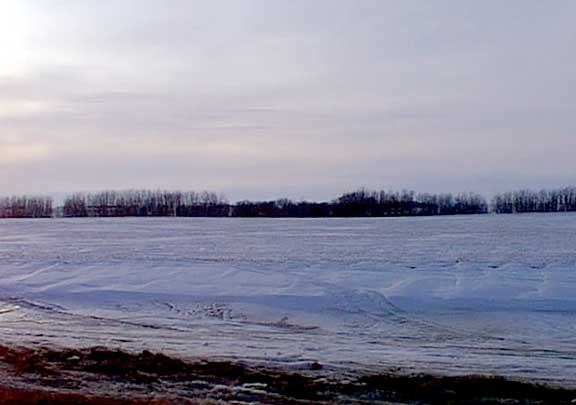 picture by Judy Shire