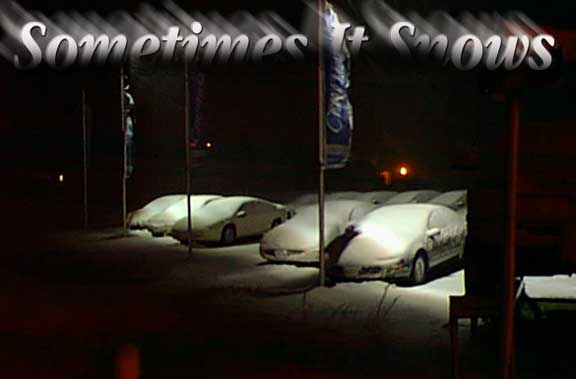 FTLComm - Moose Jaw - May 12, 2000 (highway pictures by Judy Shire)
What should have been a pleasant and needed spring shower turned into a snow storm Thursday as temperatures dropped well below freezing and from Saskatoon to Broadview precipitation fell as snow. During the day there had been some serious rain storms in Southern Saskatchewan but by night fall it was just ugly snow. Around eighty kilometres North of Regina the first flakes were encountered and by Southey it was pretty unpleasant as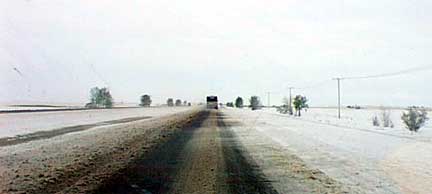 the snow was melting as it hit the ground forming firm slush. the picture above shows the conditions in Southey around 11:30.

Friday morning the snow had quit but continued strong North winds swept snow over the Transcanada highway between Regina and Moose Jaw slowing traffic at first then diverting some it from the road. More then a half dozen cars in the Belle Plain area found themselves in unusual parking spots.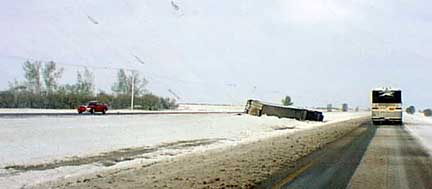 But the heavy units also were effected not just by the unstable road surface but the wind induced some lateral challenges. This one was East bound and had swung completely around on the highway's surface to be located unceremoniously on its side in the median. Traffic was continuing to get along and fortunately there were no indications of collisions or injuries.

The unit below was West bound when its directional integrity was interrupted and and it left the road only a few miles West of the one above.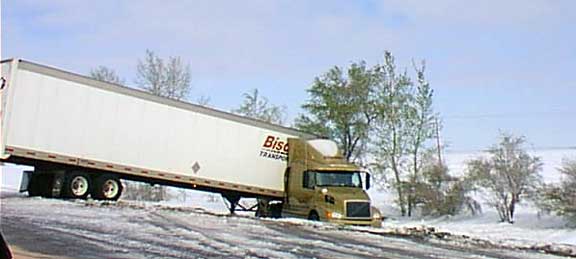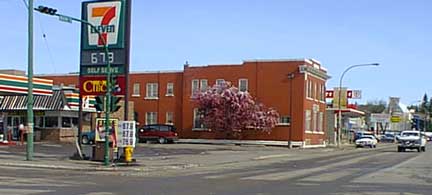 But, in Moose Jaw it is just a chilly Friday morning, much like one would expect in November with this exception, the beautiful flowered tree in this picture has a crest of snow.

Weather systems like this are not unusually as cold air masses can confront warm wet ones in the spring bringing snow and sometimes violent thunder showers. Parkas out for a day or two more.