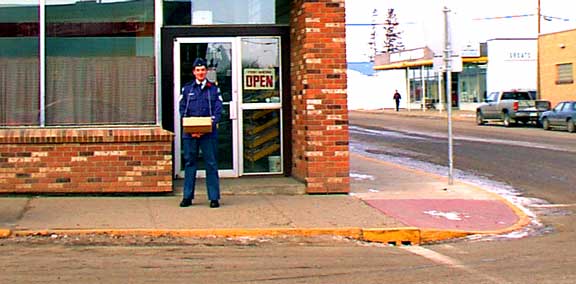 Poppy Day in Tisdale
FTLComm -Tisdale - Saturday, November 2, 2002

Last year the Royal Canadian Legion looked after poppy day but this year we have the proud young members of the Air Cadets doing their duty on the street today.

Thouugh the federal government has made some positive noises with regard to our Canadian military needs the reality is extremely bleak. Both the Canadian militia and the Cadet programmes are extremely important in doing both the public relations and introduction of military service to Canada's young people they are well aware of the low level of support the service gets and it is so hard to get up the needed enthusiasm.

Yesterday Pat Buchanan, a typical American big mouth, claimed that Canada is a free loader when it comes to defending North American
and though this is not historically the case, right now we are dragging our tail and this should not be the case. Interestingly, the real culprit is not the government at all but the Canadian voter who has demanded lower taxes and wants to see a "peace dividend" which has translated into lower support for Canada's military forces.

The really sad thing is that it is hard to have it both ways. Canada's proud historical reputation as a peace keeper and country that has stepped forward much more that our American neighbours, who only act when they are the target or threat. Canadians have gone all over the world to do the right thing and earned both respect and recognition for their efforts. Now we do not have enough folks in uniform to handle a small flood or forest fire let alone a military conflict of any kind.

But as we move toward November 11 and wear our poppies we need to remember that Canadians have done their duty time after time. We owe them to pick up the present and match the sacrifices of the past.
---
Return to Ensign - Return to Saskatchewan News
This page is a story posted on Ensign and/or Saskatchewan News, both of which are daily web sites offering a variety of material from scenic images, political commentary, information and news. These publications are the work of Faster Than Light Communications . If you would like to comment on this story or you wish to contact the editor of these sites please send us email.
Editor : Timothy W. Shire
Faster Than Light Communication
Box 1776, Tisdale, Saskatchewan, Canada, S0E 1T0
306 873 2004