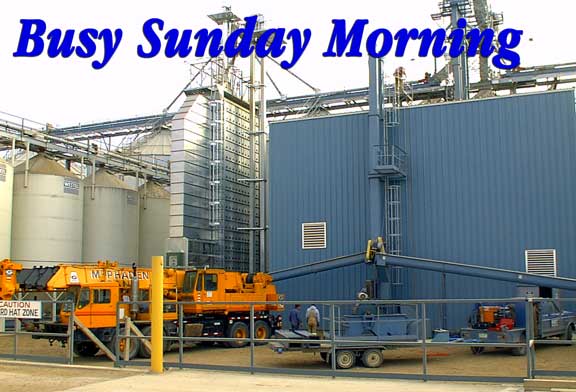 FTLComm - Tisdale - October 15, 2000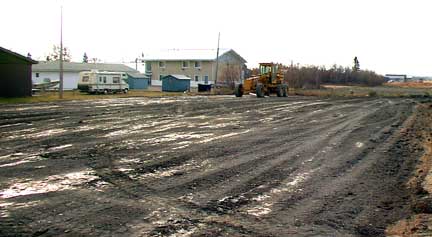 For a Sunday things were really busy around town this morning with the parking lot full at Hannigans and the street humming with traffic one could see that this was a pretty active morning.

The top news this morning is that the Shell and Fast Gas have regular gas down to 75.2 which is a welcomed event.

Over the last few days work has been proceeding to raise the level of what is expected as the future site of Dairy Queen tucked in between the Co-op Cardlock and Seven Eleven. Land fill has been gradually filling up the site and being graded and packed in preparation for
construction.

This morning there was a fellow on top of the Town office finishing off the re-shingling of the that building and I would expect the folks who use the centre to enjoy his work during their morning church service.


Meanwhile out on highway #3 West at 9:15 the parking lot was full for Bruce Schpansky's auction today. Mostly and indoor event there were sure a lot of worshipers on hand for this blessed event.

At the top of the page we have a picture taken at 9:30 at
Louis Dreyfus as Patterson welding has assembled some new equipment to go atop the processing building and MacPhaden has his crane in place to get things up there. With Louis Dreyfus in the midst of their busy season Sunday is the day to get the modifications in place without disrupting receiving, processing and shipping grain. While this is an addition to the the Louis Dreyfus operation it would appear their notorious grain pump continues to cause them trouble with another crew making repairs and adjustments to the system that moves grain from bin to bin.

The grain pump installed in all eight of the Louis Dreyfus installations is simply a non-performer. The design is simple in adequate for the demands placed on this grain handling conveyance and many experts in the field say it is just a matter of time until Louis Dreyfus has to pull the system out and replace it with something that works.