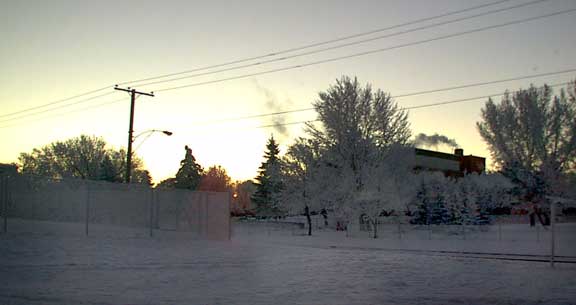 Happy New Year
FTLComm - Swift Current - Tuesday, January 2, 2002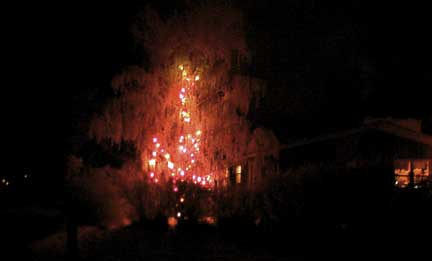 Much can be said about bringing in the new year as we look at a whole calendar year that we can make of as we wish. Well at least that is what we would like to think. Unfortunately, there will still be unpleasant tasks to do, chores and headaches of every kind but somehow we will muddle through.

This morning (above) the sun took its time rising here in Swift Current and did not peek above the tree tops until after ten. Speaking of tree tops. This picture was taken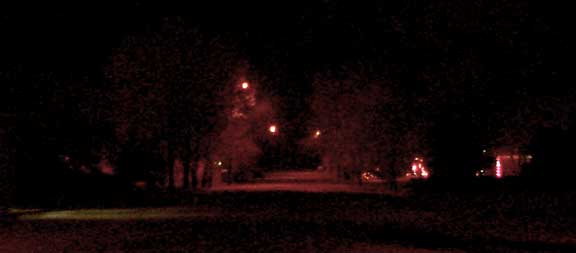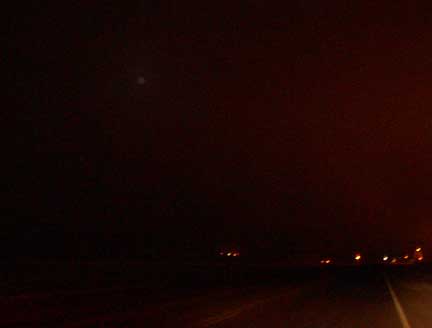 last night in Elrose as the Christmas lights shine through the frost being created by the fog in the area.

The magical scene above was taken in Kyle as the street with the frost cover trees was lit up with Christmas lights.

This picture is an interesting one as we look up into a thinly clouded sky, through the clouds at the constant moon illuminating the scene from far above. This was taken, as was the picture below just on the North side of Swift Current.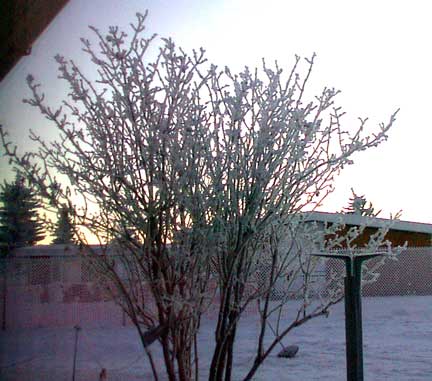 What ever this new year brings us we have no choice but to accept it and make the best of it. Yesterday when my father called and asked what I was doing, I explained that I was writing my New Years predictions and he explained to me that no matter what the New Year and what it would bring were far beyond our control.

Of course he is right but we have to make sure that we keep our heads up and try to take advantage of things rather then be pawns and fodder hapless against the forces of nature and man. Even the smallest amount of free will is extremely important for it is through the minor decisions that we make that change and direction takes place, not only in our lives but in the lives of those around us.

Happy New Year everyone may you have peace prosperity and good health.

Timothy W. Shire