Custom Blast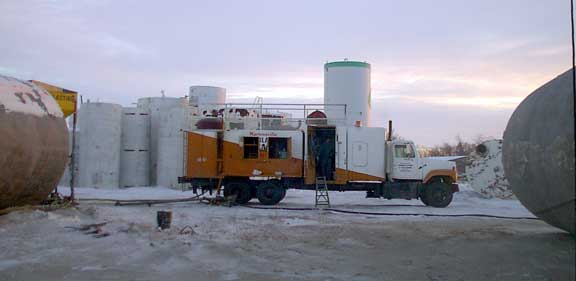 FTLComm - Tisdale - January 17, 2001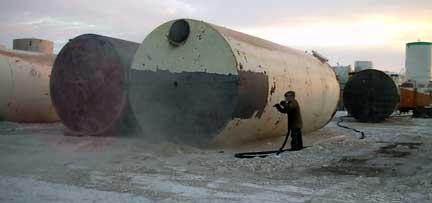 Northern Steel Industries not only makes tanks, and lots of them but they also take trade-ins and do refurbishing to used tanks. The backlog of tanks sitting in the yard is starting to build up a bit and even with sandblasting facilities at both the main plant and the Fripp building they can only keep up with production as the company is forging ahead filling orders for new tanks.

So its time to catch up and Martinsville Sandblasting is on the scene as they got to work around eleven on Tuesday and hope to finish mid morning on Thursday.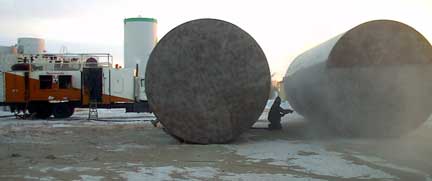 The truck mounted equipment can keep both lines ripping away with a crew of three. Working on a sandblast nozzle is tiring work and this crew spells each worker off as they take their turns removing the paint from these tanks.

Doing this work in the winter , though cold and miserable work for the men doing the work really is efficient for preparing the tanks. The
steel in the tanks actually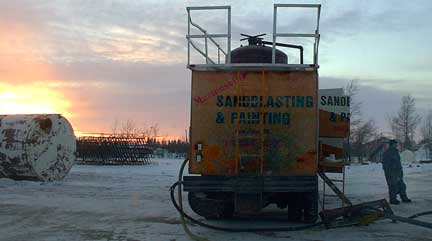 begins to oxidize as soon as
it has its paint coating removed and by doing this process in the winter the oxidation is reduced to a minimal amount allowing Northern Steel to move the tanks into their painting facility to get them ready for resale or reuse without worry of the metal rusting while they await their turn in the paint shop.

Red Green would love to see the worker below. The work is really unpleasant with a lot of noise, cold and the wear and tear of being on the business end of a huge high powered sandblast nozzle.
But if you look real close you will see that the worker's hat is and goggles are held in place with good old fashion hundred mile an hour tape, or as we all know it, "Duct Tape."