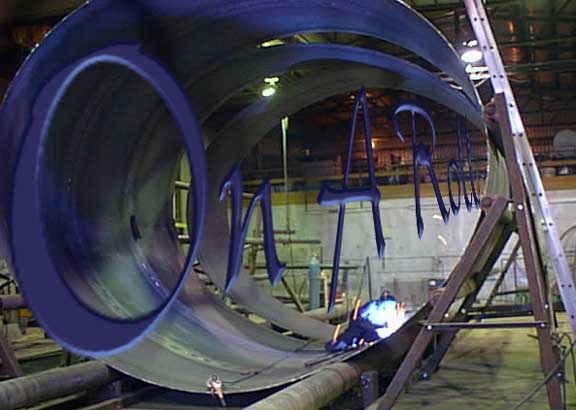 FTLComm - Tisdale - February 1, 2000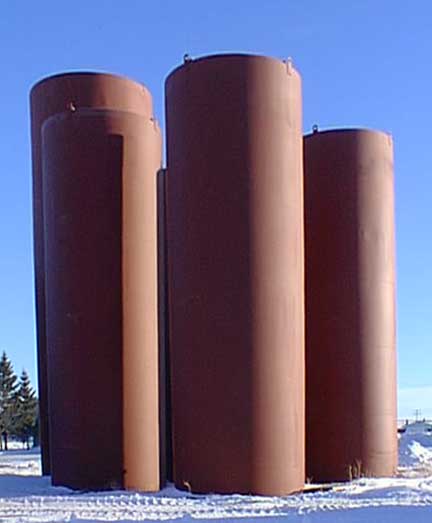 A modern manufacturer has to keep developing new products and new markets almost on a weekly basis. The ever changing world of industry and commercial activity alters demands so that a company like Northern Steel Industries has to be continuously updating its position.

The current rise in the barrel price of crude oil is pushing the oil industry into fields that in other times were not economically viable and this means that specialised equipment to work in these conditions is required and Northern Steel is meeting this challenge with the production of twenty-two of these specialised heated units (blue tank below). The staple of the company has always been the big above ground and below ground storage units and though these continue to be in demand and production with them continues there are so many other products that are needed and Northern Steel is able to product these complex and often integrated systems.

Darcy Simoneau leaves for a series of meetings in Edmonton, Calgary and Saskatoon as he tells the Northern Steel Industries story to a conference and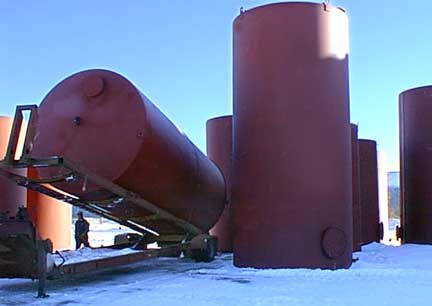 industrial meetings.

Northern Steel has sales offices in Alberta and Saskatoon which are keeping the flow of orders back to the Tisdale fabrication plants for tanks and the associated equipment that has become a standard part of this company's manufacturing process.

Ensign dropped in for coffee this morning and got a glimpse of the vigourous process as designers and production specialists take a moment out of their busy morning to have a cup of coffee and compare notes on various projects that march along with growing momentum.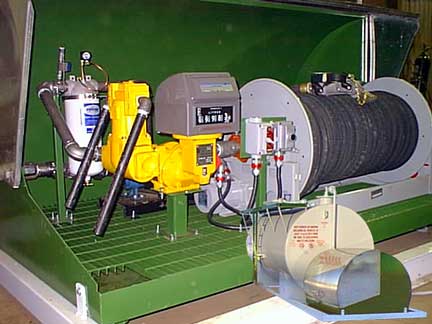 This is a special aviation fuel system including tank and fuel handling equipment that Northern Steel markets as a complete package. (see inset lower right) The electrical pumps, hose real, metering equipment and aluminum topped cabinet are integrated into the whole system with a double walled tank with its ladders and plumbing.

Units like this one are shipping to airports all across North America because they are simple and require the most minimal support to get them up and running. They need a power supply and a place to be parked and can be operational in hours after delivery.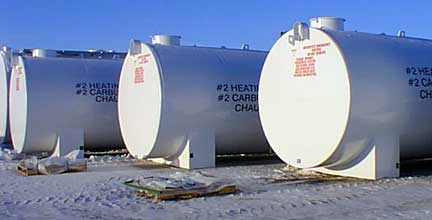 Along North America's West coast the demand for fuel tanks to replace old and leaky underground systems has been for this form of impressive above ground storage system. These tanks are double walled tanks, so they provide themselves with their own safe containment system but to add to their integrity these tanks are created with a vacuum between the outer and inner tanks. Created and tested to very tight standards these tanks provide fuel companies with storage that is
environmentally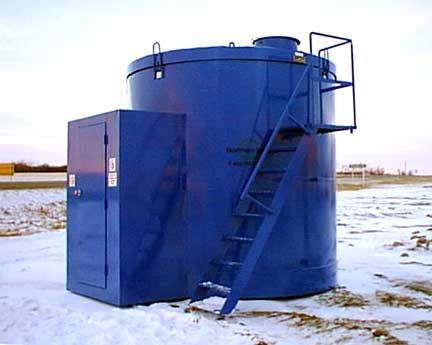 secure and
yet inexpensive to set up and maintain.

As mentioned earlier this new specialised oil field tank is fully insulated and the attached unit houses a heating system that uses the tanks foot high under floor area to keep the product warm but also has complete internal plumbing to move warm products into and out of the tank. In many of Saskatchewan's oil fields significant amount of water come up with the crude and a well can be easily shut down during the winter because the water freezes. This tank designed to go with a well head separation unit, is a solution for these marginal wells which in other times would not be used or brought into production.

Northern Steel has produced four of these so far and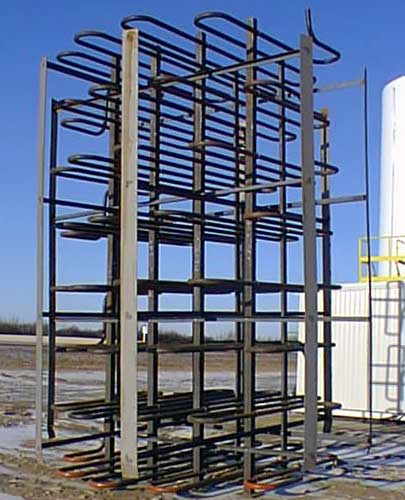 orders for a total of twenty-two
are in hand as this is an experimental project by a Saskatchewan oil producer.

In addition to these the production line is also churning our other specialised and somewhat similar products to meet a growing demand for better and more advanced needs in the oil fields of the province.

This complex structure was one of the internal installations in huge tanks built for the new strip poplar plant being constructed in Hudson Bay. The whole coil circulation system is part of a wax heat exchanger. The various components of the manufacturing process requires liquids at specific temperature and these units were created as part of these systems.

Northern Steel's diversity in products is its strength. The company has kept pace with spotting new markets but at the same time has built on its experience and reputation as the builder of environmentally friendly, durable and easy to install storage systems. From fuel to fertilizer, wood mills to the oil field, airport systems and arctic support Northern Steel is on a roll.