As Saskatchewan As Snowdrifts and Barbed Wire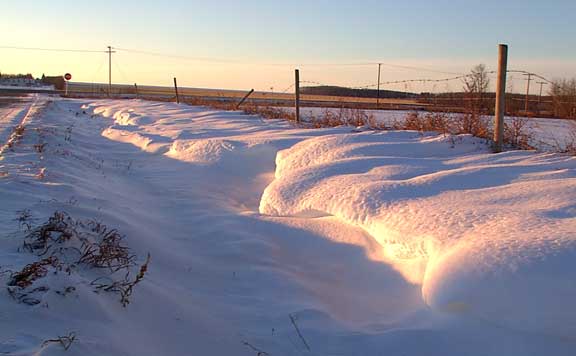 FTLComm - Tisdale - November 13, 2000
We came here from all parts of Europe and some of us came here from Asia and this became our place. My English and Scot relatives were entirely unsuited to the hostile climate and twenty years before Saskatchewan was a province they were trying to just stay alive in the bushy mixed farming area of the South East part of the province. As the North West Territories became the new provinces of Saskatchewan and Alberta people were settling here around a little stream called the doghide.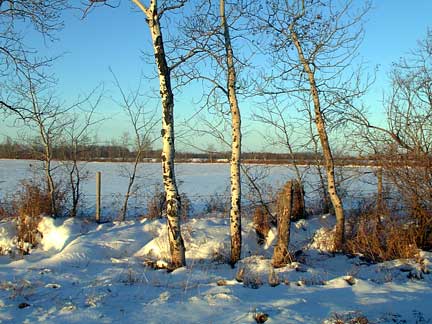 But no matter where you came from, or when you arrived, you would be imprinted with this land. This simple basic landscape with its horizontal scenery and winds that make all things go East.

Each winter we expect the snow to come and fill the ditches, we expect the sun to produce long blue shadows and the tough little trees are directly related to us because like them, we either hang on to life and struggle against adversity or we do not survive.

Then there is the barbed wire. Fences are a part of all of the North American prairies and for a few years in the US they were such a source of conflict that there actually was a kind of range
war that raged over the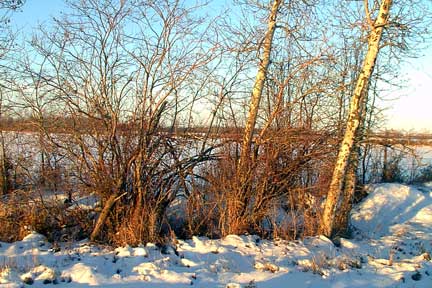 defiling of the open prairie
with fence lines. Canadians view fences much differently. They tell of the changes in times and of the economy. The move from animal husbandry to grain farming and sometimes back. Fences are often a mere gesture, a symbol, or an artifact and never anything to get worked up about. They are skidooer's constant enemy and they gradually deteriate without repair, but for some reason, they never really go away.

We all wish that railroads were like fences and were as permanet a feature on the land. Instead, they do go away and with them the economic stability of times past. Their disappearance is
a symbol to us that the lords to the East care little for our struggle and are unwilling to support us anymore, we are once more a colonial territory bound and in growing debt to unstoppable transportation costs and sinking revenue from production. These are not good times but we who bask in the setting sun know that we will indeed triumph in the end, we will survive just as the poplars survive and we will turn into the wind and yell our defiance many more times and we will grin knowing we can take it and though the snow will come and go, we will plant again and just as surely we will harvest.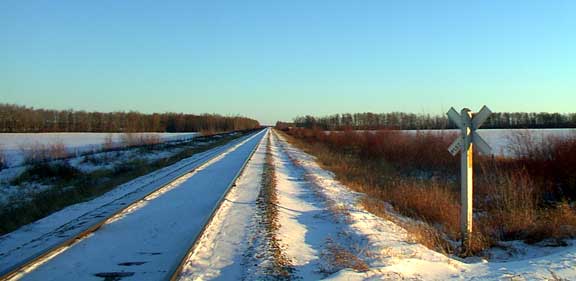 Timothy W. Shire