This Odd House - Skylight
Kamloops - February 24, 1999
by: Michael Townsend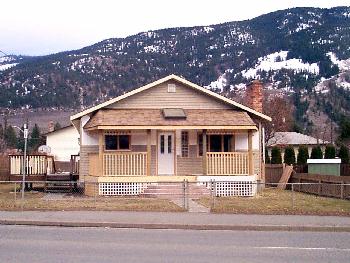 This is a house on Westsyde Road in Kamloops. Now this house experienced a fire a month or two ago and they are now
rebuilding. But something very strange has been added. Can you pick out, "What is wrong with this picture?" The work itself seems to be of a very good quality.

The odd thing you see on the roof of the veranda is a sky light. Now have you ever seen a sky light on an open veranda roof? I haven't and I got quite a chuckle when I spotted this one.


Editor's note: When I saw this picture I thought it was a solar collector or something but also note that unusual angle on the veranha the roof and the decking both slop inward so that the perspective is thrown off as you look at it.