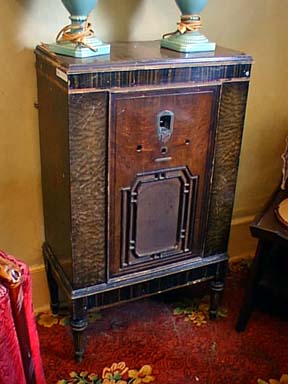 Though the street conditions were less then favourable, Tim II thought it would be cool to go out and check on some sales Sunday morning and so we saddled up Andrew's Jeep and struck off across the city splashing our way along to an auction sale that was cancelled then back to the down town area of the city to an Estate sale in a run down and very old neighbourhood.

I have spared you the scene and the conditions of the stuff that was for sale, but amdst it all, were not just some, but a considerable number, of articles that it has been a long time since I have seen things like them and of course the sellers were aware of the items value and priced them accordingly knowing that bargain hunting antique buyers would be among the many who braved the slush and puddles to check out their sale.

The wagon at the top had a price tag of $125 on it and one can only imagine what it cost originally to buy and who rode in it and played with this interesting old toy. The location for this sale indicated that it had seen little repair or maintenance in the second half of the twentieth century and this wagon looked to be something from the first half.

Another item that caught my attention was the old radio on the right which has no works left in it and is in the ugly style of things in the late twenties and early thirties. To me this item is of no value, perhaps someone might want to take the effort to restore this thing but essentially it is a fragment of the past. Consider the sounds that would have come out of that machine in its time, news of the stock market crash, the growing tensions in Europe, Hitler's oratry from the Munich Olympics, Winston Churchill, Lorne Green's voice of doom broadcasts, the Happy Gang, Maw Perkins, Gillette's Friday night fights. All those sounds of long ago, all that they may or may not have meant to the listeners. Gets a person wondering.