Lions build new spray park
FTLComm - Tisdale - Tuesday, May 25, 2004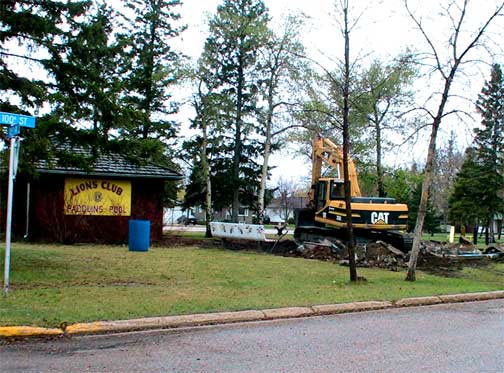 On Friday Chupa Excavation was doing the job on what used to be the Lion's paddling pool.

The old pool had reached the point where it needed repairs and it just didn't seem right to put money into a facility that was well past its time.

Instead the Lions are going to redo the entire project installing a "Spray Park".

In the area, as it was seen on Saturday (above), a new concrete pad will be constructed with a set of timed appliances that will deliver gushes of water.

The Town of Tisdale, Parks and recreation will continue to support the facility with its programme people during July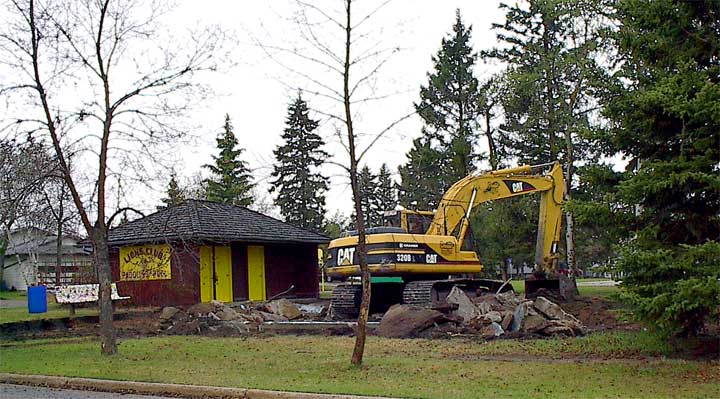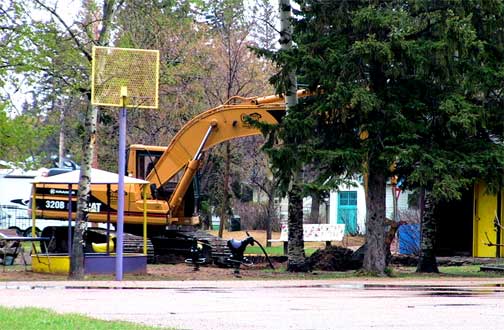 and the first two weeks of August.

There are a number of advantages with the spray park concept since the little paddling pool had to be drained each night because it was not suited for water treatment, this meant that cold water had to be filled into the pool each morning.

With the "Spray Park" the water consumption will be a fraction of what it was and will be safer and healther for the children who use the park.

Return to Ensign - Return to Saskatchewan News
This page is a story posted on Ensign and/or Saskatchewan News, both of which are daily web sites offering a variety of material from scenic images, political commentary, information and news. These publications are the work of Faster Than Light Communications . If you would like to comment on this story or you wish to contact the editor of these sites please send us e-mail.
Editor : Timothy W. Shire
Faster Than Light Communication
Box 1776, Tisdale, Saskatchewan, Canada, S0E 1T0
306 873 2004