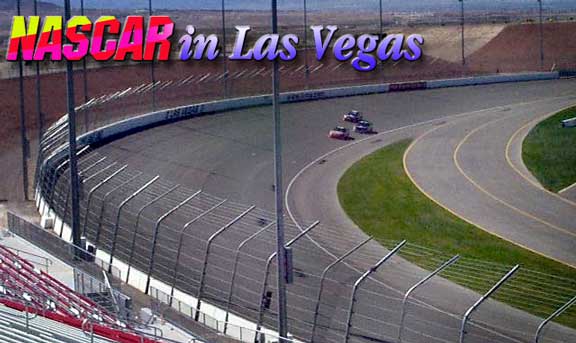 Las Vegas, Nevada - April 6, 2000 - Images By: Mike Townsend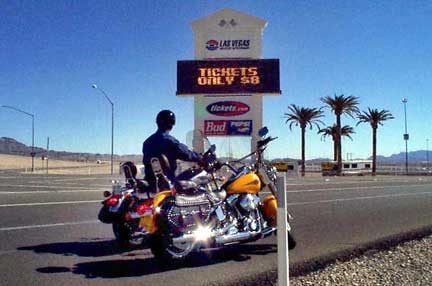 It is not a good idea to underestimate the influence that some of the influences that shape our lives have on us as we grow older. Those summers in the sand box or with match box toys on the bedroom floor have a profound way little boys view the world. How many grown adult males puzzle over their attraction to semi tractors, race cars and other things that go "VROOM, VROOM."

The motor sports world is one of the big entertainment tickets both in Canada and the United States. At the top of the mechanical food chain is NASCAR and CART racing franchises that fill up the screens of sports television network channels and capture the minds of grown little boys, the author included.
While touring Las Vegas
Mike and Bruce Townsend came across the Las Vegas speedway fitted to out to hand the premier race circuit NASCAR class stock car races. On this page are some outstanding images that show off the city's outstanding race facility that can handle the crowds and cars with equal safety. In the picture below Mike panned the vista of the track and the two images have been combined to give you this super wide angle view of what the fans see during a race. The huge centre area reserved for trailers and pit crews to service the race cars.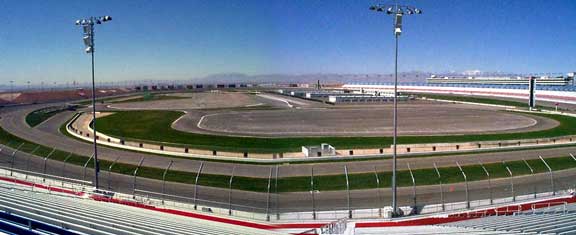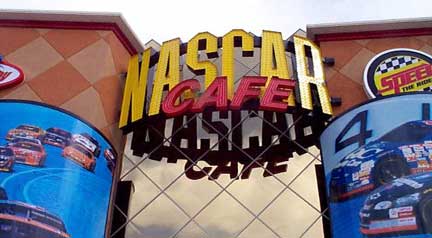 With Las Vegas being what it is it seems only natural for their to be a NASCAR cafe to show off some of the retired or back up cars of some of the greats. You will recall #88 as the number of Trickle's car in the Tom Cruise movie Days of Thunder. Being able to walk up and look one of these remarkable mechanical marvels is outstanding and for Mike to provide us with pictures of them gives us a chance to see their commercial endorsement paint jobs and the form these machines are created in.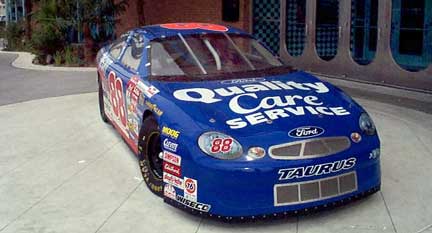 For those of you who are not
car race fanatics, though called stock cars, these vehicles are as close to real cars as WWF wrestling is to reality. The #88 car is dressed as a Ford Taurus, however, the Ford Taurus only is manufactured as a four door sedan and is front wheel drive. This creation is a standard NASCAR machine with a safety box frame and cage and only the name is Ford. The actual profile of this car is most similar to a Chevy Monte Carlo.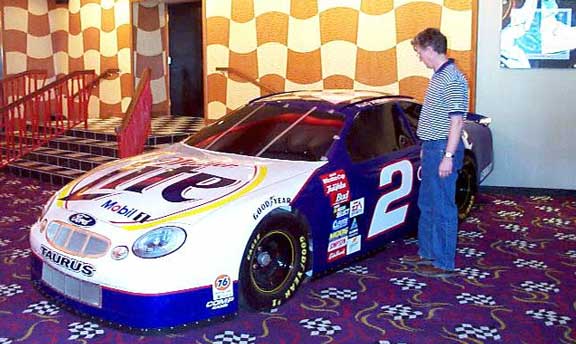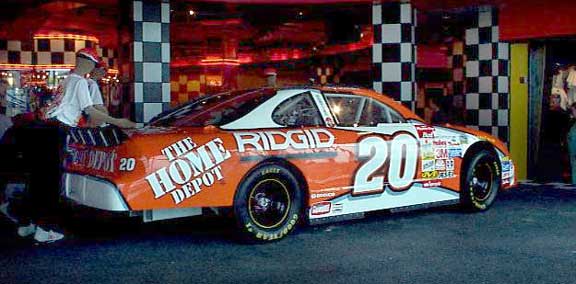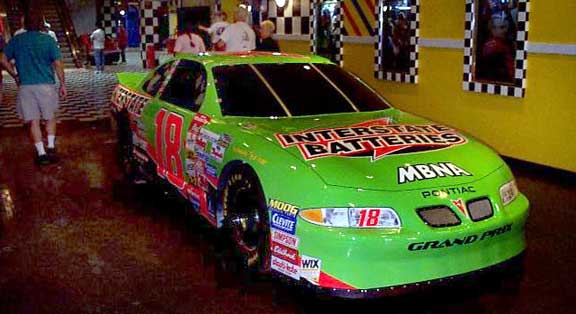 Click "Here" to go to Ensign Front page
Ensign, North Central Internet News, published daily by Faster Than Light Communications, FTLComm