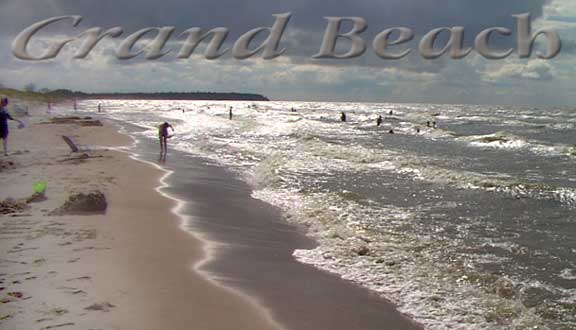 FTLComm - Grand Beach, MB, - August 7, 2000
Grand Beach is one of Canada's best kept secrets, literally miles of the finest sand in the world on the East side of a giant fresh water lake. Lake Winnipeg's shallow nature allows it to warm quickly and the wind swept water that pounds on the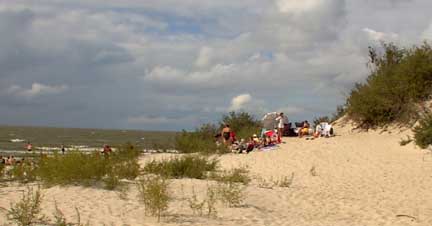 shores of this marvellous beach are almost the temperature of bath water at this time of the year. In the early part of this century the people of Winnipeg flocked to this special place to enjoy themselves, court their lovers and occasionally plot to overturn the political structure of their country. CN ran a summer special excursion train out to this beach up until 1961 and for all those years the beach rewarded each and every visitor.

During the crucial Winnipeg Strike the beach was the site of some of the plotting that many feel might have lead to the Canadian Bolshevik revolution but instead the result was a little more modest, but that's another story.

Today Grand Beach is a great provincial park less than an hour North of the city. Park entrance fees in Manitoba make this the ideal family recreation area. The sun, the surf, the sand all combine to make a place like no other place inland.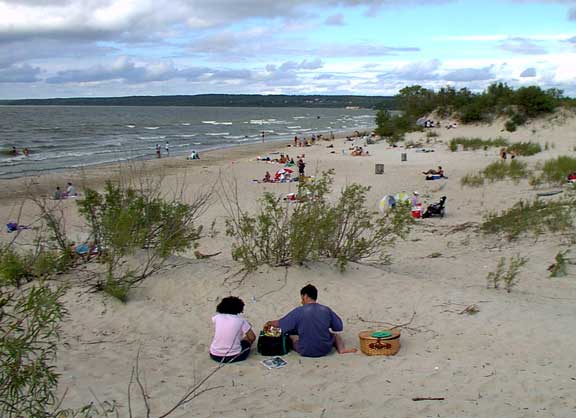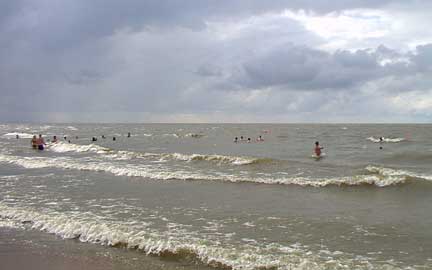 With dunes for a secluded shish kabob barbecue or bouncing around in the warm surf people seemed to make the best of the beach and its environment without the need for expensive cost to family and individuals.

On Sunday the wind was blasting across the huge lake at more than thirty knots with over three foot breakers slamming onto the shore. The gradual sandy beach reduces the dangers of an undertow as standing in the water experiencing the horizontal shower is irresistible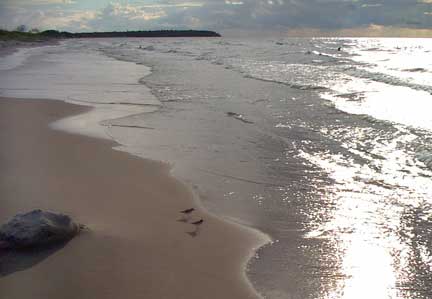 As the day wore on the sun worshipers departed leaving the late comers and birds to enjoy the gradually moderating wind of the late afternoon.

The peninsula in the distance is the location of the original location of the dance hall and resort that was the centre of activity in the first half of the twentieth century and remains today as the heart of the provincial park with a huge boardwalk, life guards on the beach and the usual food concessions mixed with lots of private cabins.

All along the shores of the monster lake Manitobans and Americans alike have their summer homes close to this vast expanse of sunny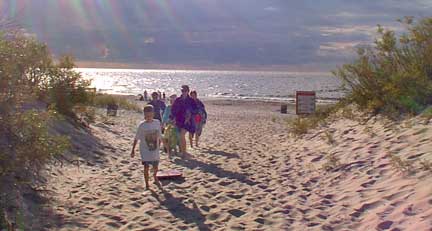 beaches with their dunes and waves.

But the beach and its wind is the ideal location for kite flying in the composite image above my sons entertain them selves by having their dad take a shot at flying one of their parafloil kites. (I'm the guy with the hat.)

This family has had their day in the sun and are about to head home. Notice the fine sand which makes you think of snow shoes as everyone trudges along up to their ankles in the stuff.