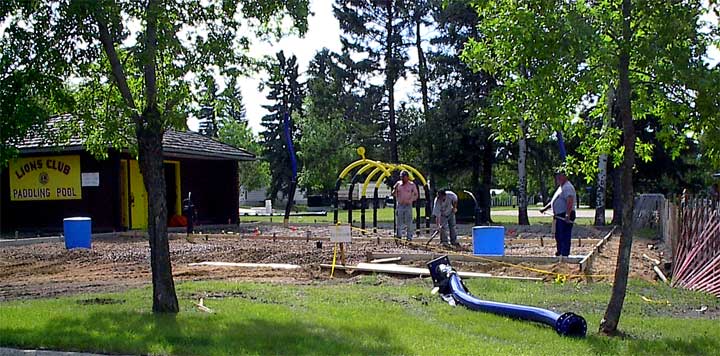 Slash park
FTLComm - Tisdale - Wednesday, July 21, 2004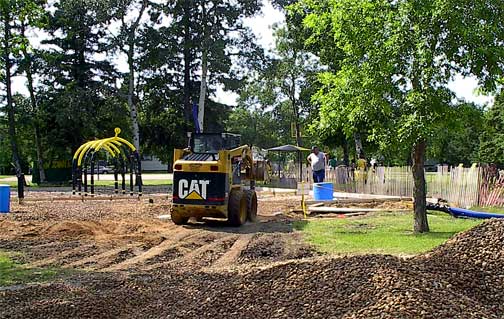 Monday morning this is how the new splash park was taking shape. Patterson Concrete and Chupa Excavation were preparing the site for the laying of the cement which was half completed (below) (Little RediMix) on Tuesday.

The underground plumbing has been set in place and the site really is starting to look like a big improvement in this community.

The large yellow structure was quite a puzzle for people as it was brought on a trailor through the neighbourhood, but now in place it makes sense.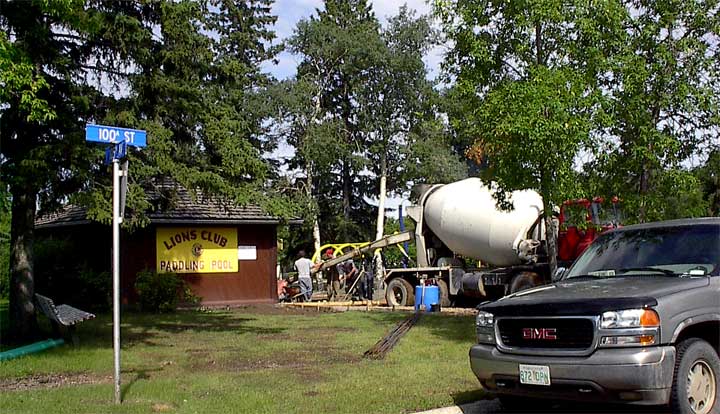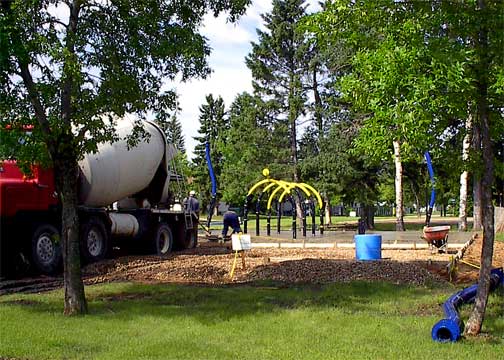 The rain has had little effect in delaying work on this project and by this time next week it will be very close to completion.

The playground programme folks have been working hard this summer with tables to serve as a centre for activities and the added bonus of construction workers and machines on the site. During each day's activities the work crew have put up fences and been very watchful to see that no one becomes a permanent part of the project.

We will have pictures of the park for you as soon as it is operational.
Return to Ensign - Return to Saskatchewan News
This page is a story posted on Ensign and/or Saskatchewan News, both of which are daily web sites offering a variety of material from scenic images, political commentary, information and news. These publications are the work of Faster Than Light Communications . If you would like to comment on this story or you wish to contact the editor of these sites please send us e-mail.
Editor : Timothy W. Shire
Faster Than Light Communication
Box 1776, Tisdale, Saskatchewan, Canada, S0E 1T0
306 873 2004