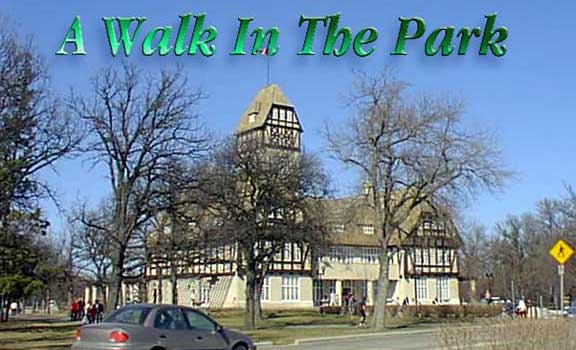 FTLComm - Winnipeg, MB - April 24, 2000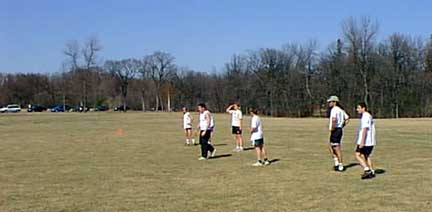 Sunday afternoon admidst brilliant sunlight and gentle East wind we join many others in enjoying one of the first warm days when shorts were standard uniform. Winnipeg's Assiniboia park is a vast expanse of cycling and strolling tails with playing fields and places to sit, lay or bask in the sun.

The traffic on the paths was very heavy with families of cyclists, power walkers, roller bladers by the hundreds and a few just like me, strolling along enjoying the sites. You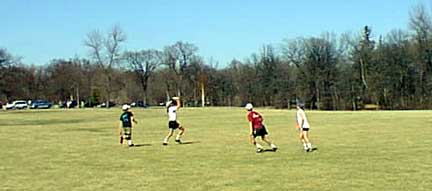 have noticed I did not take
any pictures of this activity as I was not in report mode.

Pick up football games, two soccer games and some children playing volleyball all had space enough to enjoy the afternoon but what caught my eye was this group with their field marked off with cones who lined up at each end of their field after each goal in a game of Extreme Frisbee Six players to a side with a mixture of men, women and children

ran, jumped and tossed the
Frisbee back and forth in what amounts to something like touch football only you lose possession if you miss the catch or the Frisbee goes out of bounds. You can't run the Frisbee to advance it down the field but it must be thrown and received and when it makes it over the goal like the score is made and both teams head to their own end to begin the cycle one more time.


I had seen a clip on this sport on television and remarked at the time how it look like fun and would be excellent exercise. Seeing the game played first hand I was even more impressed with the concept and equally in awe of the need for stamina to play a game like this one. It combines the running in soccer with out the needed skill to play the game. Even

players to handle the Frisbee
without much skill can still play the game effectively and the rules are simple enough and obvious enough that there is no need for officials or conflicts.

With this park located on the river and central to the most heavily populated sector of the city the recreational benefits of this wonderful park are remarkable and the citizens of the city certainly seem to make excellent use of the fields, walk ways and general ambiance of the setting.

Spring is a time for kites and several were flying Sunday afternoon. The wind was moderate to light so the wing type kites were doing fine while this parasol needed just a little more energy to stay aloft.

This family below were just one of dozens who had come to the park together. Large multifamily or extended family get together events were taking place at various locations and lent a general atmosphere of congeniality to the park and its activities. With children of all ages and adults sharing the experience it seemed most fitting for this Easter weekend.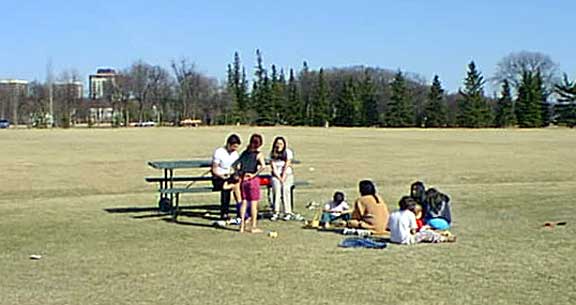 Click "Here" to go to Ensign Front page
Ensign, North Central Internet News, published daily by Faster Than Light Communications, FTLComm