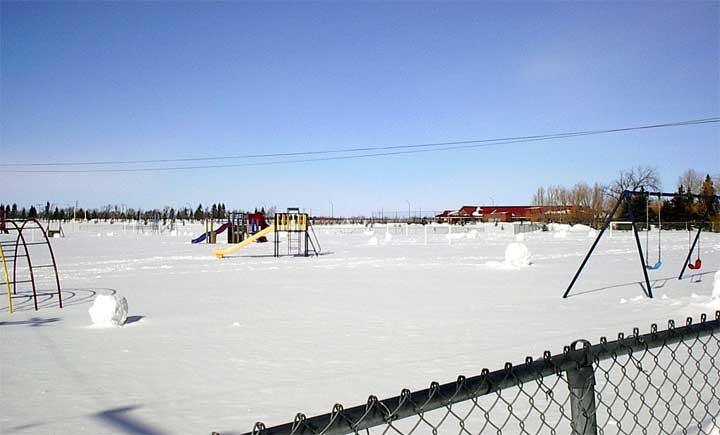 Balls
FTLComm - Tisdale - Friday, March 19, 2004
Last Sunday afternoon we were out for a stroll in the backwarming sunlight and I was captivated by the crisp shadows that painted the snow as we walked along.

But this scene was just on the edge of reality. Strewn all over the elementary school playground were these balls. Obviously, the warm temperatures had made it possible for the snow to stick together and so children being children it was a natural thing to do, make balls.

But standing there in the bright sunlight looking out across this field empty of those who enjoy part of each school day out here it was a bit strange. There before us was the evidence of thinking beings who for the fun of it had rolled up the ground into balls. The sizes of them were remarkably similar which suggests the makers were about the same size or that was about all the time there was to create their products.

Some were arranged in rows and formations while others were simply isolated products of a few minutes rolling.

I immediately think back to my own days as a playground snow ball roller and recall the way we made them and how when they froze they could last for weeks as solid monuments of our ingenuity. I remembered painting them, piling them up often to have them slip and crash to destruction. Some years we massed them together to form a wall, another time a solid block of balls and almost always we would make shapes on them. As I write this I am certain that everyone who has done this can vividly remember the smell of wet wool mittens and hands drenched in melting snow the colour of the mittens we had been wearing.

Thanks be to balls.
Return to Ensign - Return to Saskatchewan News
This page is a story posted on Ensign and/or Saskatchewan News, both of which are daily web sites offering a variety of material from scenic images, political commentary, information and news. These publications are the work of Faster Than Light Communications . If you would like to comment on this story or you wish to contact the editor of these sites please send us email.
Editor : Timothy W. Shire
Faster Than Light Communication
Box 1776, Tisdale, Saskatchewan, Canada, S0E 1T0
306 873 2004