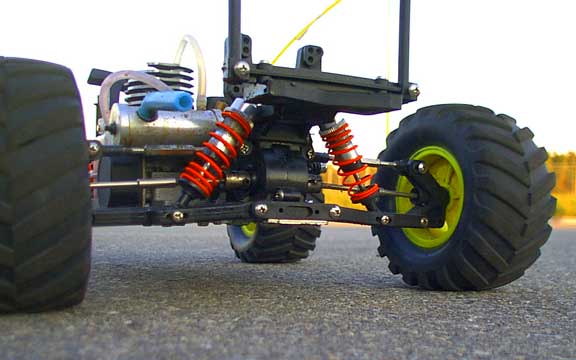 Remote Controlled Internal Combustion Engine Vehicle
FTLComm - Winnipeg - Wednesday, June 26, 2002
Though still pictures can easily tell a story when we spotted this vehicle tearing around a parking lot I was wishing I had the video camera with me because you really have to see the speed and performance of such a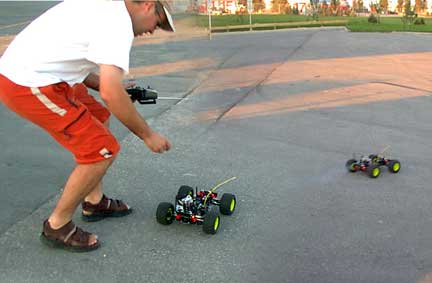 vehicle to realise how far it is from being a child's toy.

The owner is an experienced person and when we arrived on the scene (composite image right) in was making some adjustments to the carburetor The engine in this machine is similar to the kind of engine used in model aircraft but teamed up to the power conversion equipment of a wheeled vehicle.

In the picture at the top of the page you are looking at ground level at the back of the vehicle and can see the effective suspension and the excellent muffler. When I first spotted it darting around I failed to see the exhaust and assumed because it was so quiet that it was electrically powered. But the light engine and its fuel reduce the overall weight of the machine so much that it has astonishing performance.

It does have a plastic body when can be installed on it but for fun and practical usage there is no need for this affectation and the positive control and maneuverability are what operating it makes this a real challenge and a positive form of recreation. Perhaps as much or more fun that grand pre racing without the danger and insane cost.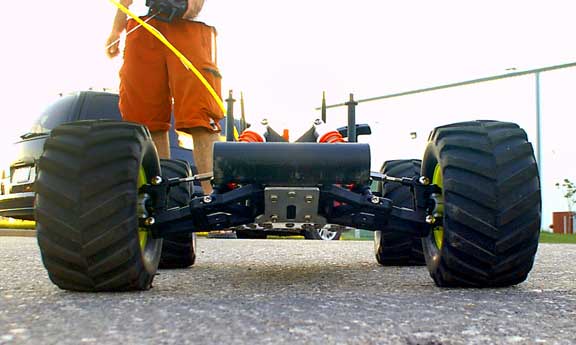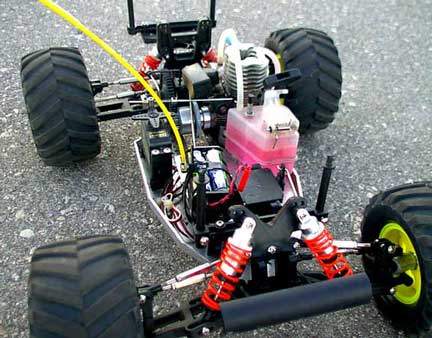 Above is a ground level look at the front end with is strut suspension.

This higher angle lets us look over the vehicle from the front as you can see the servo that handles the throttle, the little four "AA" cell power pack that provides electricity to run the servos and the receiver and you can see just behind the front struts the servo that looks after the steering.

The picture below shows the motor and fuel tank and lower left a better view of the steering servo. The long yellow wand is the receiver's antenna.