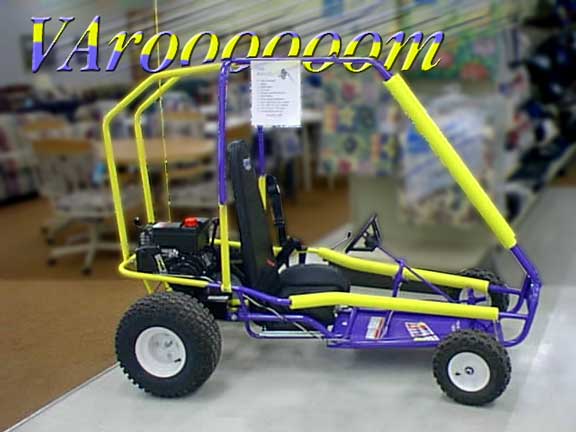 FTLComm - Tisdale - May 6, 2000

In a motorised world it seems completely appropriate to have motorised toys. The gaining popularity of the four wheel All Terrain Vehicle is remarkable. The early three wheel versions are no longer in production but four wheelers are spawning in the back of pickup trucks everywhere. However, though the ATV is remarkably capable it is also a substantial amount of money. Many families just want something that they can use around the yard and the large and very powerful ATV is more money and more dangerous than is warranted.

Beeland Coop has the answer with some low cost sturdily built go-carts. These little vehicles are a far cry from the early versions that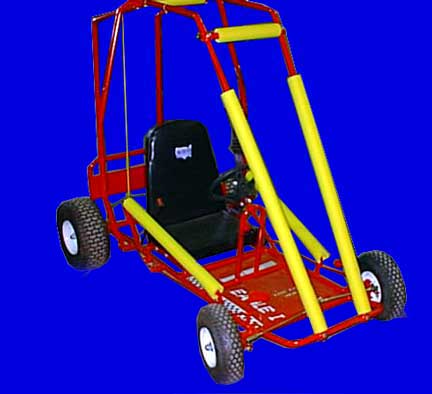 people put together themselves
or were sold. This new variety come with three point seat belts and roll bars. There are three models available the one at the top of the page is a six horse powered single seater and sells for $1,645. It has a simple centrifugal clutch drive system like that you would find on a skidoo and brakes.

The smaller version is a five horse powered one seater and is sold for $1,500. This version is more suited to being used by a child where as the one at the top of the page will easily handle a good sized adult.

With the safety equipment on these they are probably just what the farm family wanting their children to be able to get the idea of driving could use at a fraction of the price of even a used ATV.

The reason the three wheel ATVs were removed from the market is that manufacturers were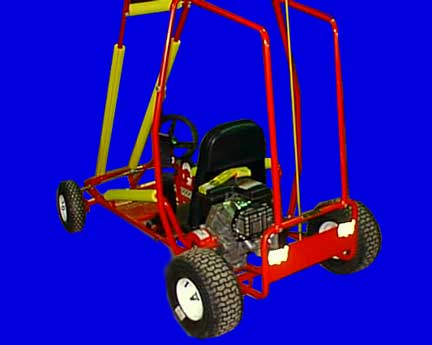 uncomfortable with the
numbers of serious injuries on them and the law suites were piling up. You should not consider buying one of the three wheel machines under any circumstances. They can send its rider flying headlong into the ground almost without warning and the injuries are so often fatal.

These roll bar equipped go-carts are simple and safe. All of them come with Tecumseh engines which are remarkably reliable and easy to start. The two single seat ones need to be pull started but the two seater has a full electrical system and starts with the turn of a key.

Though primarily for recreation the two seat version would fill the bill as a utility vehicle on a farm. Farmers use ATVs as mini pickup trucks to go out to the field, inspect crops and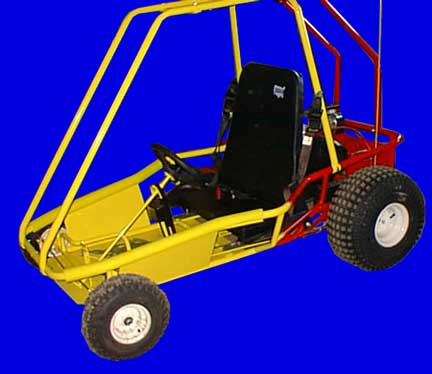 handle fence mending and
other chores. At $2,500 the two seater would do all of these things as still be available for some fun.

As you can see the two seat version has a full frame pan giving it a strong rigid body. Its wider stance and low centre of gravity make all three of these vehicles difficult to tip and unlike the high powered and easy to roll ATV these machines all have protective roll bars.

This two seater would be a handy thing in town but of course the mix of vehicles on the streets is already pretty extreme although a vehicle like this one might make more sense then the very expensive electrical vehicles many senior citizens use to get the mail and get around downtown. No doubt it would require a bylaw to make such a vehicle usable in town.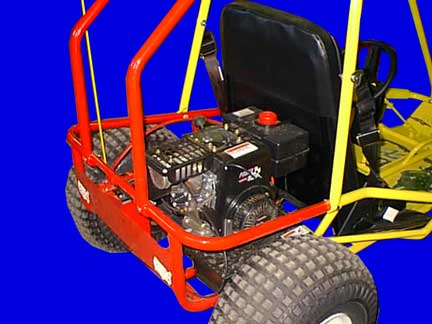 It seems that with large numbers
senior citizens in town we should really consider the use of golf carts within the town as they are handy to use and would give people with limited mobility a means of being out and about. The problem of course is the golf carts do not have signals or lights, seat belts or other safety equipment.

But for fun, light work on the farm and for kids these roll bar equipped go-carts look like an interesting and inexpensive alternative.