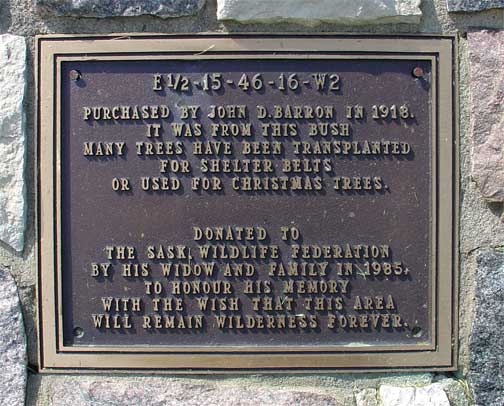 Enjoy reading Ensign with the happenings around Tisdale.
I went to high school there from 1959-1963. i was raised on a farm in the Leather River district. Our farm was six miles west of Runciman or ten miles north of Valparaiso.

There is a cairn erected eight miles north of Valparaiso, two miles west and then north about a 1/4 mile. It is situated on the soth east corner of about a 1/4 section spruce bluff.
The original land owner was John D. Barron. His first wife (Margaret) was a sister to my grandfather, John A. McIntyre. She died of appendicitus at a young age. John D. remarried and to this union was born a son, John (Jack) Barron and a daughter, Mary (knee Wright) John D. Barrons son Jack Barron was the propieter and undertaker of Barrons Funeral home in Tisdale.
Before son Jack and mother Mary passed away the family willed the property, the spruce bluff is on, to the Canadian Wildlife Federation so that it would be preserved indefinitely.
There is cairn erected in memory of John D. Barron, a early pioneer, and recognizing Mrs. Barron and the family for the willing of this property to the Wildlife Federation.
Daughter Mary married Jim Wright and still lives on the farm five miles west of Runciman and a mile south. They could be contacted for more relevant information as I may not have all the facts exact.