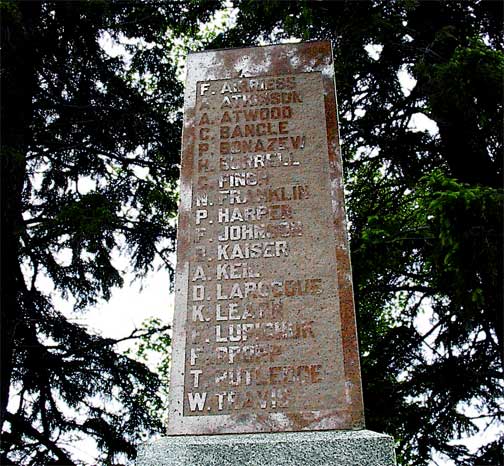 Philip Harper,
died August 28th
1944

FTLComm - Togo - Saturday, June 19, 2004

There are eighteen names carved into this stone that stands at the head of the main street of a village which today boasts only one-hundred twenty residence. Eighteen names of soldiers, airmen and sailors who went off to war and never returned.

Togo is only a few hundred yards away from the boundary between Saskatchewan and Manitoba. The picture below is what the community looks like form the Manitoba border. It is about a half hours drive from Roblin, Manitoba, about the same distance south of Kamsack, Saskatchewan and close to an hour from Yorkton.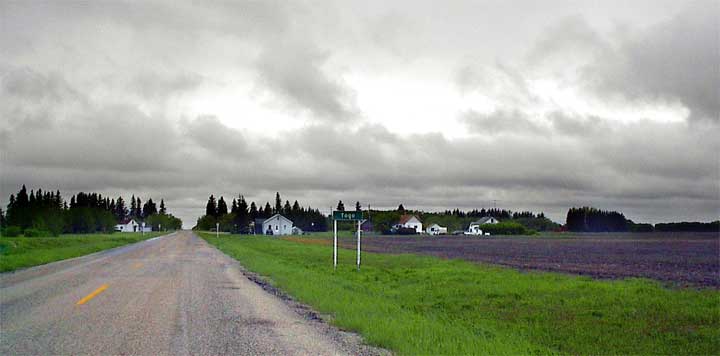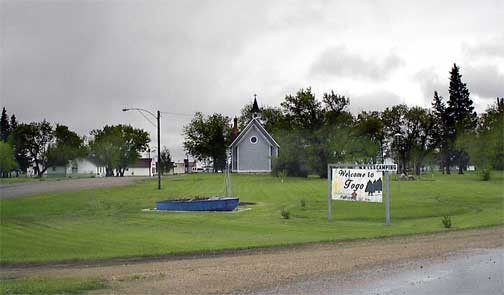 Like so many communities of agricultural Canada, Togo is a shadow of itself. Once a lively village with grain elevators and a railway station but today is a gentle, well groomed place with lawns and gardens, small homes, a couple churches, a few small businesses, a hotel and a former cafe now turned into a senior centre while was bustling with activity when we dropped into Togo on Thursday morning with a light rain falling from the cumulus fractus clouds above.

This is one of the few larger homes left in the town (below).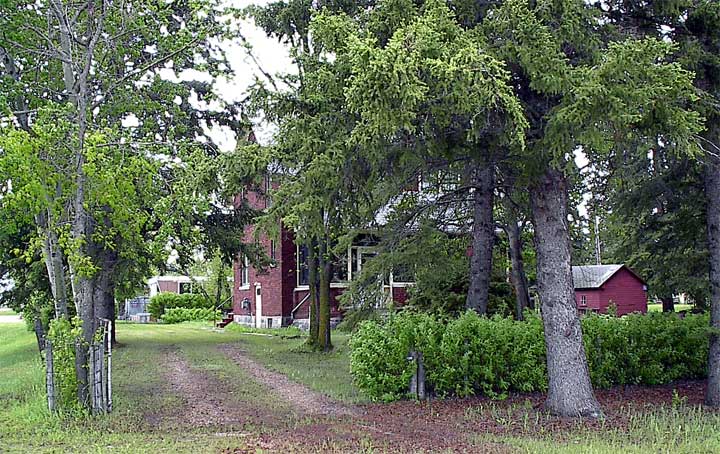 Togo sits upon one of the only flat areas in this part of the country. About fifty kilometres north is Duck Mountain provincial park and the area around this rise elevation is some very rolling country with crisp valleys and tumbling meadows. Though the farming in the area is very productive the rough country lends itself to livestock production.

Togo was settled in 1904 when the Canadian National Railway line was built through the area. In February a war had broke out between Russia and Japan and of the twelve Russian ships in the naval battle eight were sunk and the other four captured. The man in charge was Admiral Heihachiro Togo and the village was named after this brilliant naval commander. Three other Saskatchewan towns were given Japanese names from the same conflict; Mikado, Kuroki and Oyama.(1)

This building (right) was one of the earliest built. From the picture below you can see from the perch atop a grain elevator that it was an extensive town at one time.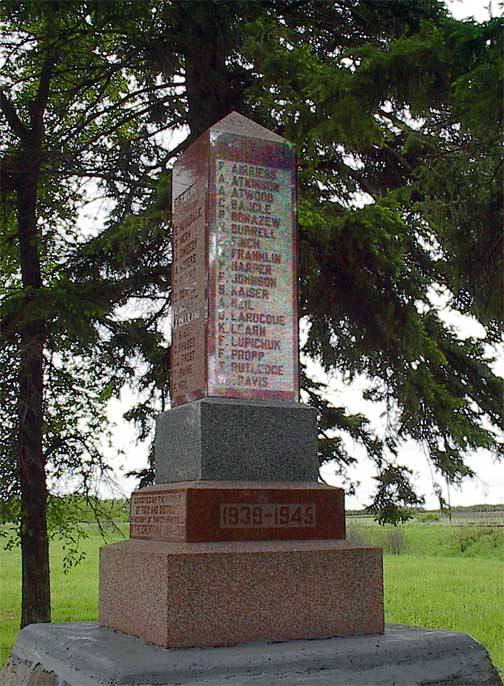 The cenotaph at the south end of the village's main street has the names of fifteen men who died in World War I and as you can see eighteen names of dead in World War II.

It is hard to image such a great sacrifice for such a small place but it is just as hard to work through the consequences of this kind of loss. These people did not have families with children, grandchildren and a legacy of experience and accomplishment. Instead their lives ended abruptly in lands far away.

A few days ago I received a message from Bernard de Maussion how attended the "D" Day commemoration ceremonies at the Cintheaux cemetery close to Falaise Normandy. Bernard said; "It would be agreeable for me to have contact with the family of this young soldier, who died in the field of honor on the French ground in the name of freedom."

He said that Philip Harper was twenty-seven when he was killed on August 28, 1944.

So, we went to Togo. Philip Harper's father was Nathaniel and his mother Elizabeth Ann and both of these people passed on some time ago. Philip's brother William ran the family farm and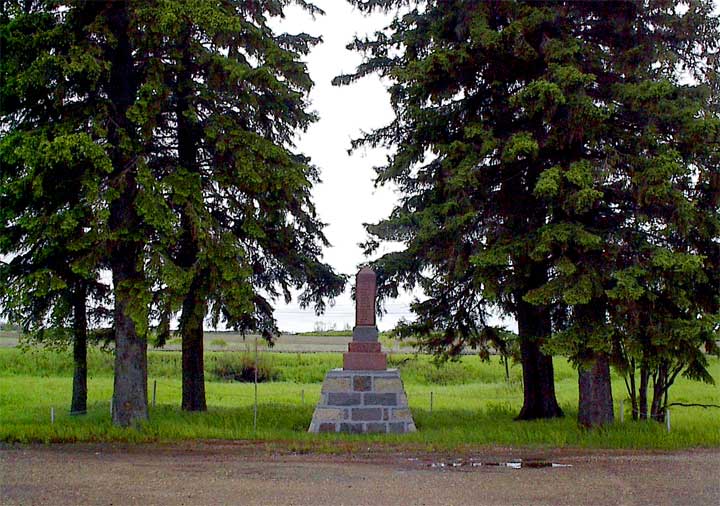 now his son Lyle lives on the farm since his death, also some years ago.

As I look down this little street I can image that it really didn't look that much different when Philip was growing up here. The little white school was built sometime in the 50s but it is likely that Philip attended school in a rural school closer to their farm. It is almost five miles to the farm from this location, though not far now in the thirties when Philip was going to school it was a very long distance as most kids either walked or used a horse to get to and from school.

Philip joined the South Saskatchewan Regiment well after the war had begun and was the only member of his family to go overseas. Many of the soldiers who served Canada were much younger but Philip was already fifteen years old when the miserable dirty thirties were at their peek and he was twenty-two when war was declared in 1939. With this in mind it is not an impulse that would have sent him to join up but as a maturing adult he would have been well aware of the danger and what he might have to face.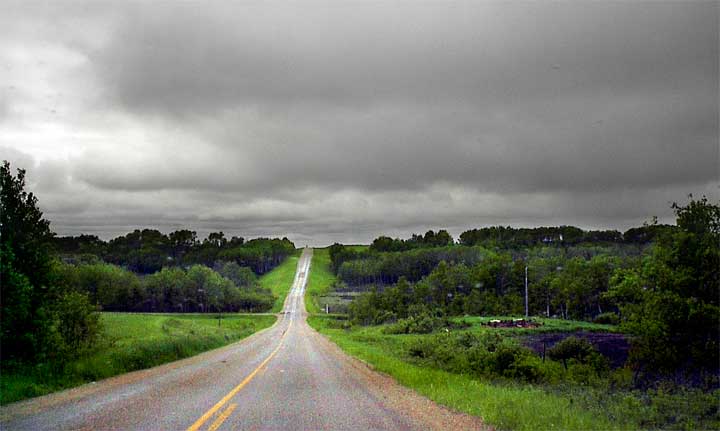 Four miles west of the village the road settles into this richly green valley, though the trees will be taller now this is the same landscape where Philip Harper grew up. At the intersection (above) we turned south for three quarters of a mile with absolutely gorgeous countryside on both sides of the road. (below) This little valley is less than a quarter mile north of the Harper farm.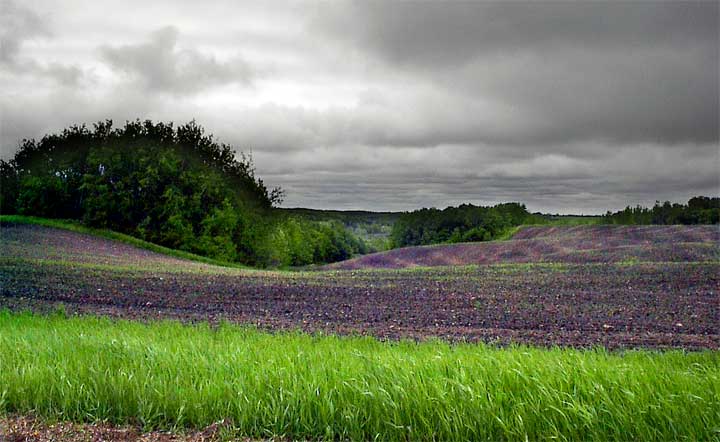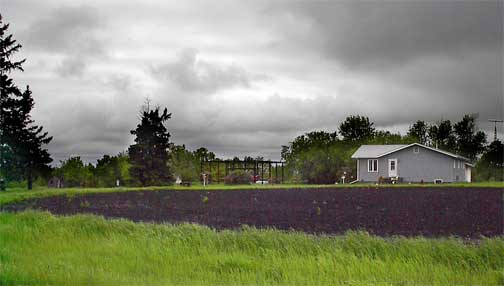 The original family home was only tore down a couple of years ago and in its place a new machine shed its taking place as you can see the metal framework that will form the main structure.

The picture below shows the setting of where the farm house once stood and just beyond the little wood building on the left there is a sharp drop off into a little revene that runs around west of the farm yard. For Bernard de Maussion's sake we need to point out that in Canada most buildings are made from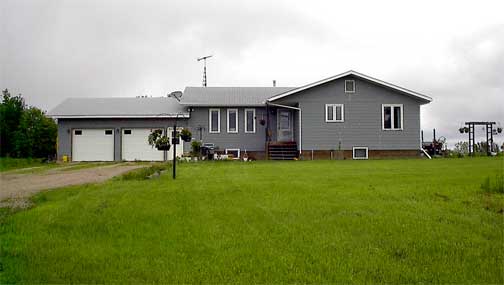 wood and in such a young country most buildings are replaced regularly.

Lyle Harper and his family live in this farm house and were not at home when we made this visit.

This is the first story about Philip Harper and in the future we will make an attempt to get some images from Bernard de Maussion's

part of the world as he lives in Caen. We will also try to get a picture of Philip so we can put a face and details on this man's life now some sixty years after he died in Normandy. (click on image of Philip Harper for an original sized image borrowed from the virtual war memorial.)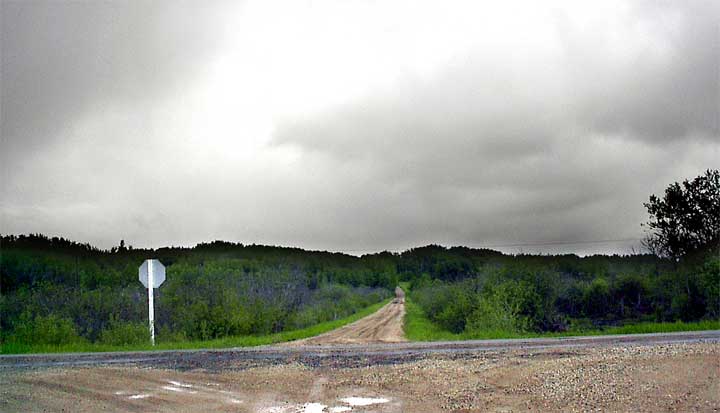 Reference:
1. Barry, Bill, People Places Contemporary Saskatcchewan Place Names, October 2003, People Places Publishing LTD. Regina, Saskatchewan
Return to Ensign - Return to Saskatchewan News
This page is a story posted on Ensign and/or Saskatchewan News, both of which are daily web sites offering a variety of material from scenic images, political commentary, information and news. These publications are the work of Faster Than Light Communications . If you would like to comment on this story or you wish to contact the editor of these sites please send us e-mail.
Editor : Timothy W. Shire
Faster Than Light Communication
Box 1776, Tisdale, Saskatchewan, Canada, S0E 1T0
306 873 2004