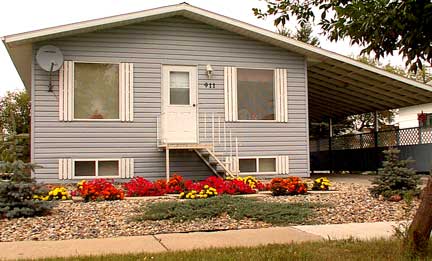 One never really can not stop being surprised and the enormous variety and exuberance of home owners and the way they decorate their yards. Today we have two great examples with a back yard and a front yard. In both cases the flowers are integrated into the landscape and become the feature of the yard.

The picture above has a both potted plants and flower beds filled with blooms, coupled with the great use of creeping vines this yard is a delight.

The front yard solves the age old problem of growing a lawn in a desert climate. This home owner like many others has seeded their lawn with stones with a weed preventing plastic underlay. But then they laid a set of stepping stones and filled in the spaces with flowers. They have used petunias and my favourite, marigolds to make a front yard that would put any crop of mower fodder to shame. Water, fertilizer and kind words and this yard is a riot of colour.