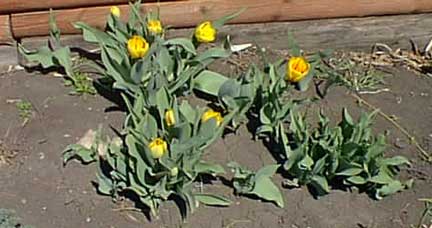 Checking with neighbours it looks like its time to put in the garden. Looking around town there are several gardens already in and most are getting ready.

While getting some milk at the store yesterday I had to wait as the customer ahead of me dashed from the till to pick up another handful of vegetable seeds.

Soil temperature are rising rapidly and we have some weeds started so that usually is a good sign that its time.

This neighbour is carefully counting out his potato hills while the neighbour beside him has everything planted. He explained to me that our lack of productivity is caused by us not putting something in when we expect to take something out of the ground. He carefully mixes in all the leaves and grass clippings as well as last fall he worked in a bag of peat to bring up the fibre in the garden soil.

These tulips are growing in the front flower bed of a nearby neighbour's yard and as you can see a few weeds have taken advantage of the warm weather. You can also see how very dry the soil is this spring and many neighbours have begun watering their lawns. Ours is doing fine without water and is demanding a second cut.

The progress of the seasons is remorseless, Judy was trying to execute a fly last night and was triumphant when the poor creature expired. From the look of windshields we should hear the buzz of mosquitoes if we get a shower or two. For now its just weeds and grass to cut. With summer not here yet let us all think wistfully of fall and winter.