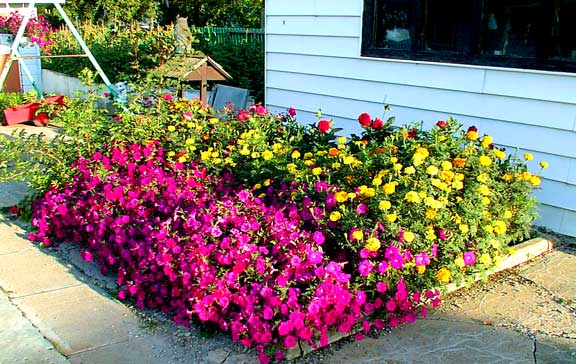 What a year for flowers!
FTLComm - Tisdale - Thursday, September 12, 2002
By now most years the summer blooms are waining losing their richness as the growing season comes to a close but 2002 is not a normal year. Out in the fields around Tisdale it looks like the beginning of July with the crops that did not germinate until late July now full of growth and very green.

Those same conditions are taking place in everyone's gardens, we have potato plants coming up all over the place about eight inches tall as they have decided it is time to get going.

The nurseries had a tough time moving their products this spring as planting was so delayed and as a result the bedding plants that were sold were in remarkable condition, mature and very vigourous.

Everywhere you look in Tisdale the gardens and the flower beds are truly remarkable and this one shown here is not an exception but typical of so many yards around town.

The QuickTime panorama seen below is only 90º so you get a look at a back yard but notice not only the flower beds but the garden in the back ground and the shelves of geraniums. This yard also had a great use of an unused swing set. One lady told me last night she put a lath structure over an old swing set to make a shelter for her tomato plants with outstanding results.
---
Return to Ensign - Return to Saskatchewan News
This page is a story posted on Ensign and/or Saskatchewan News, both of which are daily web sites offering a variety of material from scenic images, political commentary, information and news. These publications are the work of Faster Than Light Communications . If you would like to comment on this story or you wish to contact the editor of these sites please send us email.
Editor : Timothy W. Shire
Faster Than Light Communication
Box 1776, Tisdale, Saskatchewan, Canada, S0E 1T0
306 873 2004