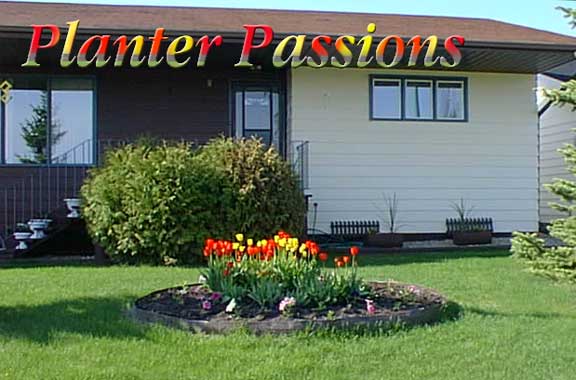 FTLComm - Tisdale - May 26, 2000
For a brief while between the departure of the winter's snow and the arrival of summer we have a petunia free environment. It is a time to be cherished for soon the ubiquitous every cheery cheap petunias will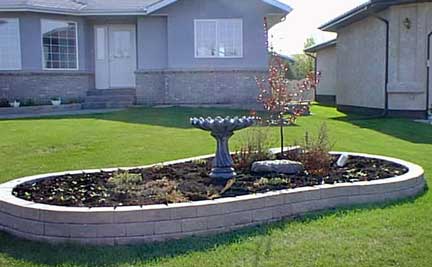 festoon almost every yard in town. So this morning let us celebrate and enjoy the early bloomers. Tisdale does not have a large population of tulips but such lushes blooms need not be everywhere to be appreciated.

The yard above has a great centre lawn flower garden which brightens the neighbourhood with this outstanding display of yellow and red Turkish flowers. That's right the tulip became prized and was grown extensively in Holland but occurs naturally in Turkey from which it was imported into Northern Europe.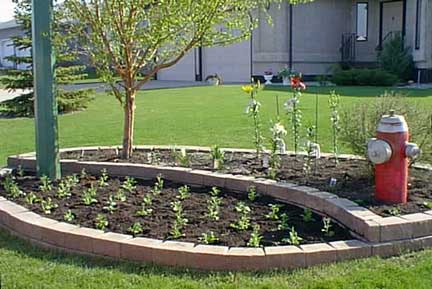 Planters are a great way to
break up the expanses of wasted green grass and these two are on Newmarket Drive side by side in two neighbours yards. The next yard to these also has a fabulous theme display with a wagon wheel and we will have a picture of it another day when Cliff blooms start to show up. I particularly like the planter seen here on the right as it has a nice way of dealing with a corner lot and a fire plug while still giving dogs a chance to sneak up and leave or check out the signatures.

Traditionally folks have put their flower beds up against their houses like this one below which has a dandy set of tulips in bloom. Last year this flower bed was planted with a wall of annuals that stood three feet tall and were utterly covered with blooms. (No petunias) The nice thing about growing tulips is they grow first thing in the year and then give space to grow other blossoms in the rest of the summer.