Greenwater Provincial Park
Saturday, March 5, 2004
by: Gerald Crawford

February 22nd, 2005: There were nine members at the February meeting of Parkland Photography Club.

Darlene and Tibby had taken the club's slide show to five seniors' residences in January and February, and report that it was well received. Wes Swan is taking it to show at some places in Nipawin, then Anne McIntosh and the Neishes have some plans for it.

Theme of the Month was "Wildlife" and of seven entries, Dorothy Wark won first with her photo of a spruce grouse; Jerry Crawford's deer photo, and Darlene Mcullough's squirrel photo were runners up.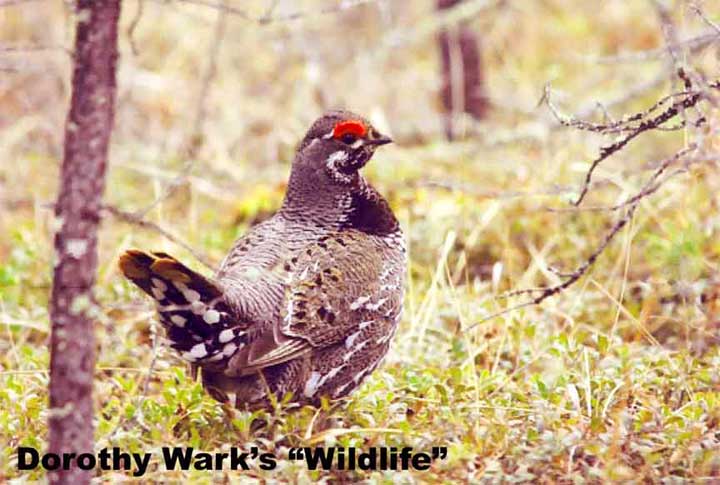 Our main activity was the judging of members' entries into th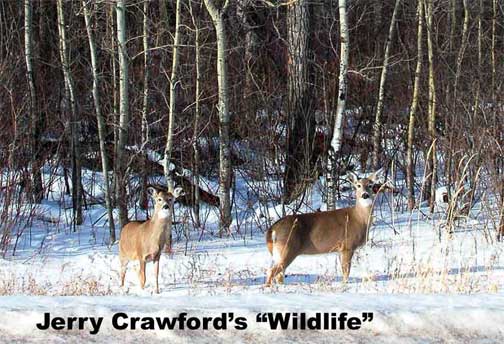 e various PRPA print competitions. The results of this judging does not determine which prints are entered, but serve as guidance for the makers, who can then decide if they want to enter their prints. In the Sports in Action category, Jerry Crawford won the most points; in Human Portraiture, it was Jenny Fritshaw; in the Gerry Fish Open category it was Alan Caithcart, and in the Attanyi open category it was Alan Caithcart again. There is also a category for Computer Enhanced, but there were no entries.

We had two more slide entries for the Transparency Battle, so these were judged along with the eight we picked last month. Our club can only enter a total of eight slides, so we had to weed a couple out.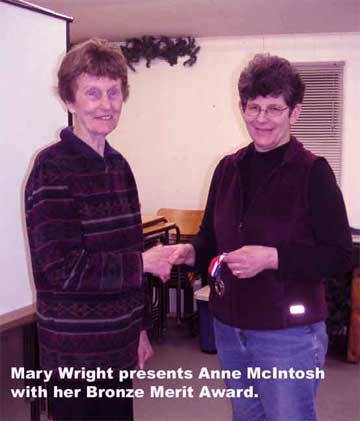 Thanks to Wes Swan and Anne McIntosh for the delightful lunch

President Mary Wright presented Anne McIntosh with her Bronze Merit Award medal, and Jerry Crawford with his Gold Key fob Merit Award.

Several members had brought Christmas photos, which were projected and admired.

For our March Meeting: we have received the slides our members had entered in PRPA competitions; these will be viewed and the judges' comments discussed.

We should have more time, so would like to see some members' work, such as slide shows. Bring yours if you have any.

Time to start considering a destination for our June Outing.

The Transparency Battle is being held at Prince Albert May 1st this year. We need to tell them how many of our members will be attending.

Theme for March is "Cold".
Return to Ensign - Return to Saskatchewan News
This page is a story posted on Ensign and/or Saskatchewan News, both of which are daily web sites offering a variety of material from scenic images, political commentary, information and news. These publications are the work of Faster Than Light Communications . If you would like to comment on this story or you wish to contact the editor of these sites please send us email.
Editor : Timothy W. Shire
Faster Than Light Communication
Box 1776, Tisdale, Saskatchewan, Canada, S0E 1T0
306 873 2004