November 22nd, 2005: There were fourteen members and guests at our November meeting. A warm welcome to Bev Morgan, who has been a member in the past, Berny Hiscock and Glen Galloway. We hope to see lots more of you!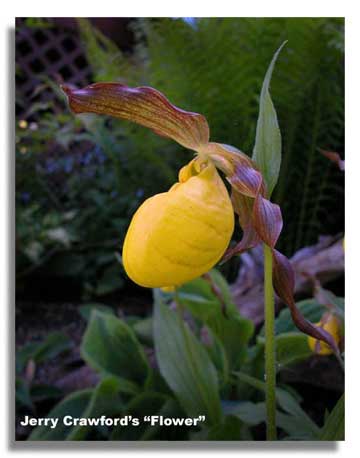 There were eleven entries into our theme shoot, and the result was a three-way tie for first! After a run-off vote, winners were Doreen Crawford's Begonia, Jerry Crawford's Lady Slipper, and Alan Caithcart's Columbine.

We had a judging job to do - PRPA's Travelling Salon. There were twenty eight slides to judge. We take our judging pretty seriously; there was a lot of discussion, and it took a long time. We like to add useful comments at times, too.

We also had three matted enlargements to judge, but this was just for our own education. Two of the three will be entered in PRPA's Attanyi Competition.

Darlene had put together the club's slide show; we viewed the first half of it at last month's meeting, and tonight we viewed the rest. It is a pretty impressive display with lots of variety, and has been well received at the seniors' residences where it has been shown.

Not too many slides are being taken these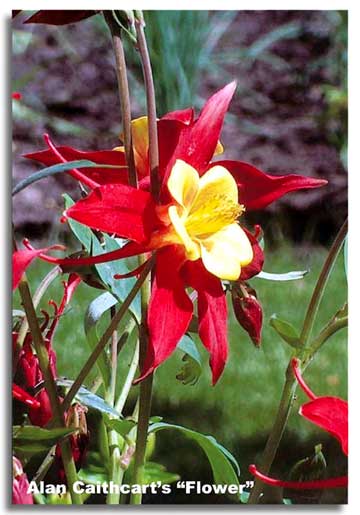 days. In the past, members could participate by having Jerry copy their prints onto slide film, but it is an added expense and the copies are rarely as good as the original photos.

Alan offered to scan prints and slides and let us use his digital projector for the club slide shows in the future. Hopefully, this will mean greater participation as fewer and fewer people take slides, and it will give more scope for selecting images for the club slide show. They can be slides, prints, or digital images.

In order for our display board and framed enlargements at Doghide Gallery to be changed often, every member is asked to bring an item for one or the other of these to each meeting. It's important to keep our displays fresh!

Winning theme shoot photos will be matted and put on the display board each month after Jerry is finished using them for the newsletter.

As usual, there will not be a December meeting. Next one will be on January 24th, and the Theme is "Wheel(s)".