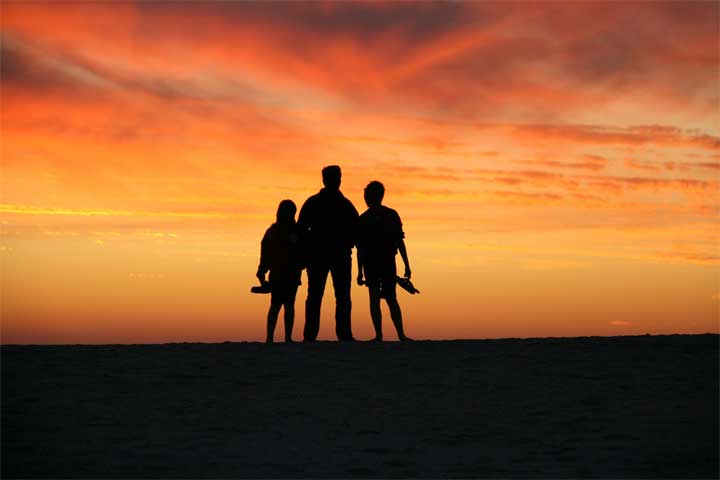 First Place - "Silhouette" by Neil Anderson
Parkland Photography Club
February 2009
Tisdale, Wednesday, February 25, 2008 by: Darlene McCullough
President
Anne McIntosh
752-4042
Vice President
Neil Anderson
873-2356
Sec./Treasurer
Darlene McCullough
873-2030
The February meeting of the Parkland Photography Club was held in the Doghide Gallery on Tuesday, February 24 with twelve members present. A special welcome is extended to new member Edwin Brehmer of Weekes.

A pull-down screen has been mounted on the back wall of the Gallery and this met with favourable response by the members. We tried a new seating arrangement in that we meet in a circle at the front area of the Gallery for our discussion section of the meeting and then move to the side area for viewing images. Following discussion of the draft copy of the guidelines for images to be submitted in the theme shoot competition no changes were made to the list so we will use this for future competitions.

Anne McIntosh reported that she and Glen Galloway had presented the club photo show at Nirvana and Diefenbaker senior housing and Anne showed it for the United Church Women. There were many positive responses at all these showings in Melfort.

Anne McIntosh has agreed to be in charge of the outside-the- club competitions. The Saskatoon Camera Club is hosting one last "Transparency Battle". Since digital images have become so popular, this slide competition will be discontinued. Any members who have suitable entries for this competition are asked to bring them to the March meeting when we will select the eight images to be entered from our club.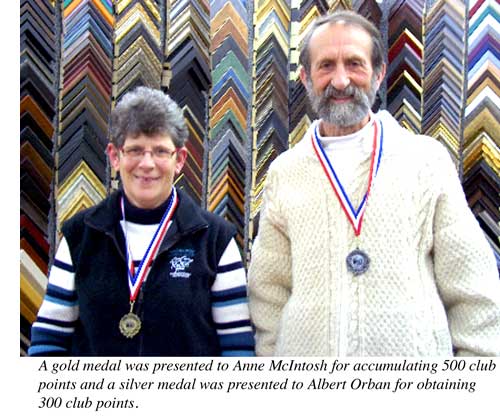 We have three members who have accumulated points at the level where they qualify for a medal. Anne McIntosh was presented with a gold medal, Albert Orban with a silver medal, and Anne McIntosh will present Sharon Walker with her bronze medal as Sharon was not present at this meeting. Congratulations to these members!

There were ten entries in the Theme Shoot Competition which was "Favourite Photo". These were judged with first awarded to Neil Anderson for his "Silhouette" and a tie for second between Anne McIntosh's "Costa Rican Sunset" and Lia Boxall's "Ice Water".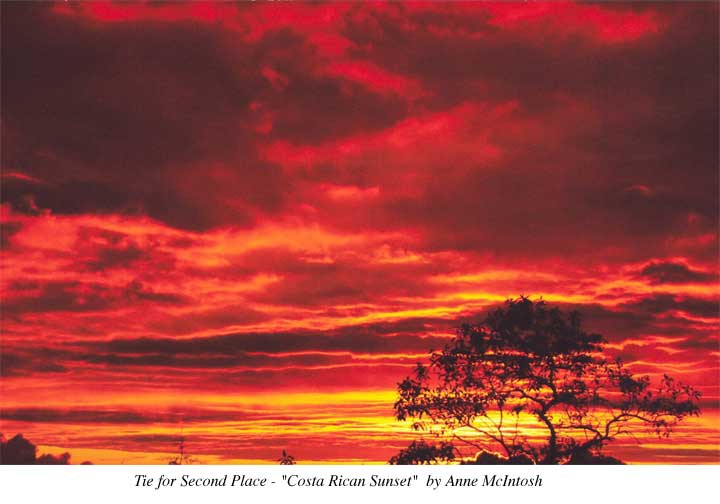 Alan Caithcart presented two videos on Macro Photography (extreme close-up) using methods that did not require specialised equipment. This was accomplished by simply combining two lens. Various lighting techniques were illustrated using a telephoto lens with an extension tube, considering the depth of field, using a solid tripod and putting a bean bag on the lens to avoid shutter shake, and bouncing light back onto the subject using white or coloured reflectors.

Thanks to Mary Wright for providing the lunch for this meeting.

The next meeting will be on Tuesday, March 24 at 7:00 PM in The Doghide Gallery in Tisdale.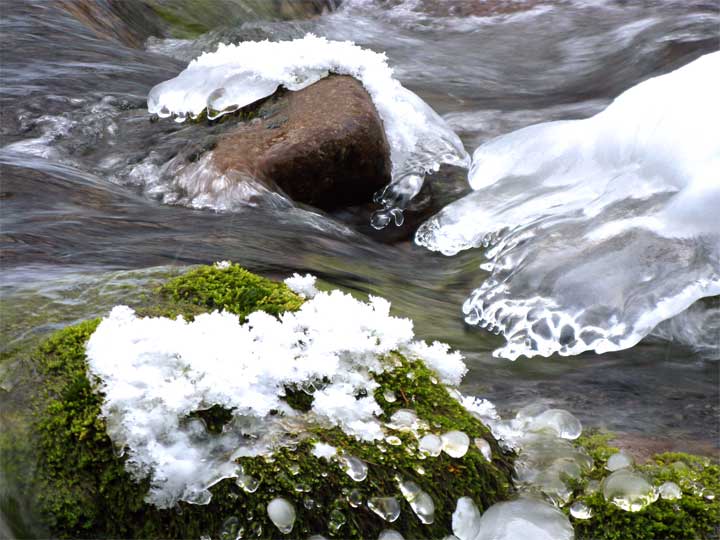 Tie for Second Place - "Ice Water" by Lia Boxall
---
Return to Ensign
This page is a story posted on Ensign a daily web site offering a variety of material from scenic images, political commentary, information and news. Theis publications is the work of Faster Than Light Communications . If you would like to comment on this story or you wish to contact the editor of these sites please send us email.
Editor : Timothy W. Shire
Faster Than Light Communication
Box 1776, Tisdale, Saskatchewan, Canada, S0E 1T0
306 873 2004