President
Anne McIntosh
752-4042
Vice President
Neil Anderson
873-2356
Sec./Treasurer
Darlene McCullough
873-2030
Tuesday, November 24, 2009

President Anne McIntosh welcomed twelve members and one guest to the Parkland Photography Club meeting held in the Doghide Gallery at 7:00 PM.

Some suggestions for programmes for future meetings were discussed with two of these being pursued: club members doing presentations, and having a professional photographer as our guest presenter.

A special project was suggested and accepted by the group. Each member is to select a two metre square and shoot photos from within it during a 24 hour time span. The member is then to select the top ten shots and present these at a meeting. This project must be completed by the April meeting.
.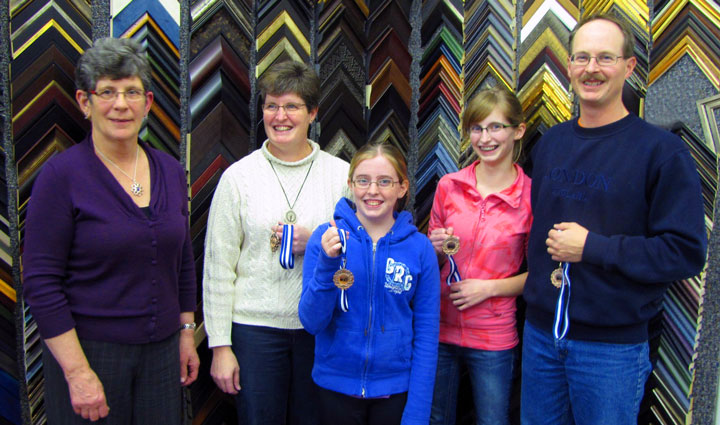 Anne McIntosh presented Lia Boxall, Hannah Anderson, Jillian Anderson and Neil Anderson with their bronze medals for accumulating 100 club points. Congratulations!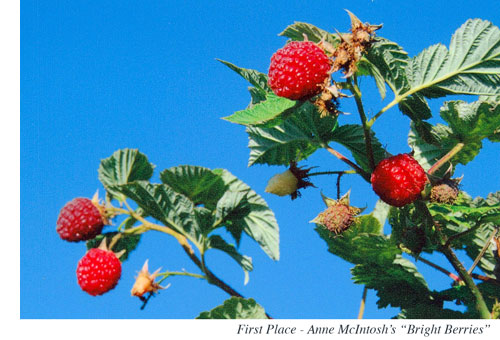 The monthly theme shoot was "Berries" and there were eleven entries. Following the judging of these by the club members, there was a three way tie for first - the first time this has ever happened in the club history. First place winners were Neil Anderson for his "Dogwood Berries", Susan Morgan for her "Berry Interesting" and Anne McIntosh for her "Bright Berries". The theme shoot winners are displayed on the club display board in the Doghide Gallery so we invite you to stop in and have a look at them.

Members had handed in prints or digital images and Alan Caithcart put these into a slide show format which will be presented at the senior residences in Tisdale and Melfort. The slide show was previewed with Darlene McCullough reading the commentary. Members then cleared up some errors in this and supplied extra details about the images.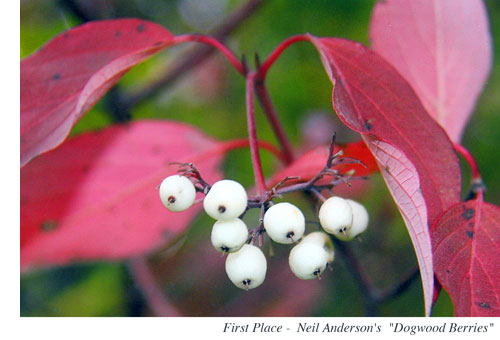 There were so many showy flowers this fall that Alan Caithcart volunteered to put some of our flower photos into another slide show. There is background music for this rather than a commentary. The members previewed this slide show as well. It was decided that a copy of this slide show would be given to the Garden Club in Tisdale.

Thanks to Wendy Derbowka for supplying the lunch for this meeting.

If you are looking for a small gift for friends or relatives who have lived in Saskatchewan, we suggest that you purchase the DVD "I am Saskatchewan". The DVD consists of the narration of a poem about Saskatchewan with the phrases of the poem illustrated by photos taken by members of photo clubs in Saskatchewan. There are copies of the DVD at the Doghide Gallery and they sell for $5.00 each.

The next meeting of the photo club will be held on Tuesday, January 26, 2010.

Merry Christmas to everyone and we wish you good health and happiness throughout the next year!

Return to Ensign
This page is a story posted on Ensign a daily web site offering a variety of material from scenic images, political commentary, information and news. This publications is the work of Faster Than Light Communications . If you would like to comment on this story or you wish to contact the editor of these sites please send us email.
Editor : Timothy W. Shire
Faster Than Light Communication
Box 1776, Tisdale, Saskatchewan, Canada, S0E 1T0
306 873 2004