President
Neil Anderson
873-2356
Vice President
BJ Madsen
Sec./Treasurer
Darlene McCullough
873-2030
The first meeting of the year for the Parkland Photography Club was held on Tuesday, September 28 in the Doghide Gallery in Tisdale. In the absence of President Neil Anderson, Vice-President BJ Madsen chaired the meeting. He welcomed the 12 members present with a special welcome for the three new members - Jerry McLellan, Salome van der Merwe, and Dr. Juliana van Jaarsveld.

Anne McIntosh showed her project of photos taken within a two metre by two metre square within a twenty-four hour period. The club members then gave suggestions for a project for this year. First was a suggestion that each member selects an area of special interest such as what can be done to a photo after it is taken (enhancement/manipulation) or a subject such as clouds. Another suggestion came from a letter from the Highland Dance Club requesting that the Photo Club take photos of their dancers. The third suggestion was taking photos for the North East Newcomers Service who are looking for photos of the Tisdale area, events held here, and of people for their web site.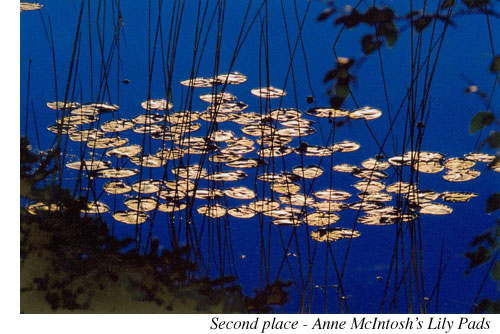 Competitions chair Anne McIntosh then displayed the member prints that had been entered in the competitions of the Prairie Region of Photographic Arts. As each print was displayed, Anne read the remarks of the judges as well as the mark given to the photo. As usual, we agreed with some of the comments and disagreed with others as judging photographs is very subjective.

Lina Bisco was ill the day she had agreed to visit our club as a guest presenter so we are hoping that she will be able to attend our October meeting.

Members were reminded of the Photography Workshop being held in Nipawin and sponsored by the Nipawin Camera Club in October. Kindersely photo club are hosting their annual Foto Fun Competition and each member of a photo club is invited to submit one image taken in Saskatchewan . Parkland Photo Club members are to e-mail their entries to Anne McIntosh by October 15. If a club submits five or more entries, then they are asked to judge the other entries in the competition. This is an experience that we always look forward to.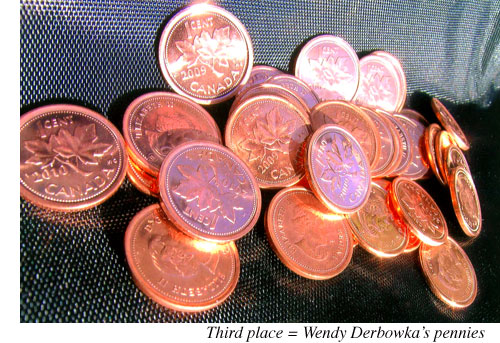 Each year the photo club asks each member to submit about fifteen images that are then compiled into a slide show which is taken to our senior residences in the area during the winter months when these people find it more difficult to get out. Members were reminded of this project and asked to have their images ready for the October meeting.

We are planning on again hosting a "Shutterbug Show" where we display some of our work. Each member will provide four or five framed images ready for hanging. It was decided that some time between the middle of January and the end of February would probably be a good time for most members. This gives the members time to select their images, make enlargements, matt them and frame them. The "Shutterbug Show" will be held in the Doghide Gallery so watch for this date to be announced.

The theme shoot for this month was "Shiny" and there were eight entries. The entries are judged by the members with first place going to Jillian Anderson for her shot of a CD; second place to Anne McIntosh with her photo of lily pads; and a three way tie for third place to Wendy Derbowka's display of pennies, Albert Orban's sieve, and Darlene McCullough's shiny floors in an abbey in Austria.

Mary Wright supplied the lunch which was enjoyed as the club members had some time for socialising.

The next meeting of the Parkland Photography Club will he held on Tuesday, October 26. If you have an interest in photography, you are invited to come and join at that time.

Return to Ensign
This page is a story posted on
Ensign
a daily web site offering a variety of material from scenic images, political commentary, information and news. This publications is the work of
Faster Than Light Communications
. If you would like to comment on this story or you wish to contact the editor of these sites please send us
email
.
Editor : Timothy W. Shire
Faster Than Light Communication
Box 1776, Tisdale, Saskatchewan, Canada, S0E 1T0
306 873 2004