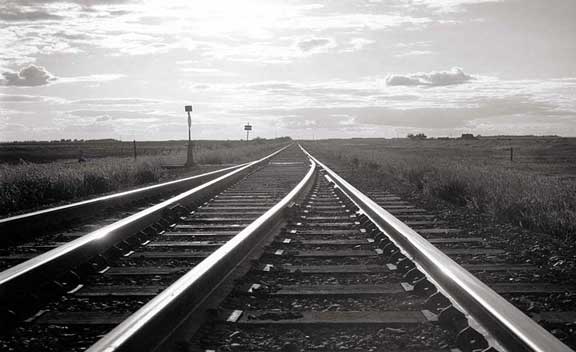 Jerry Crawford's, railway tracks at Englefeld
Parkland Photography Club - February , 2002
Tisdale - February 28, 2002 - by: Gerald Crawford
February 26th, 2002: Eleven members turned out for our February meeting.
For the annual Transparency Battle, we had twenty one slides submitted; we eventually pared it down to the eight that we are permitted to enter.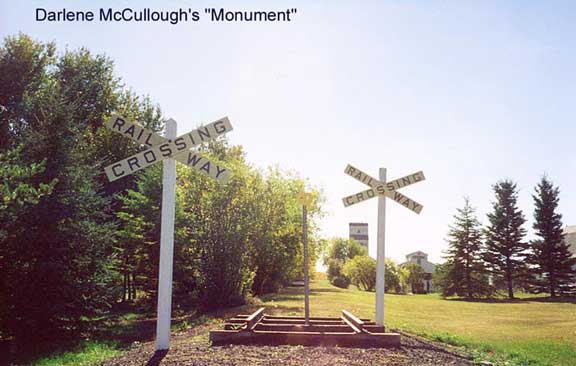 For the Theme, which was "Monument", we had seven prints entered. Winner was Darlene McCullough's photo of two crossing signs, a short length of track, and a distant wooden elevator.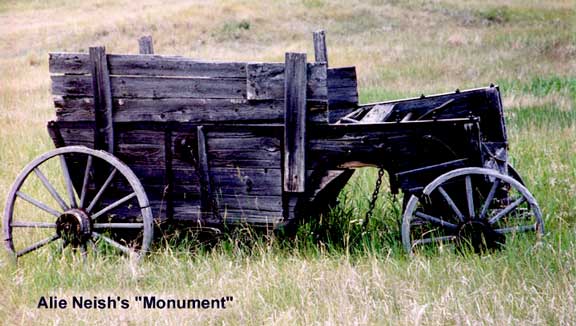 Runners-up were Alie Neish's photo of an old horse-drawn gravel wagon, Alan Caithcart's photo of a war memorial with a Canadian flag flying above it, and Jerry Crawford's photo of two pepperoni sticks, a town attraction at Mundare, AB.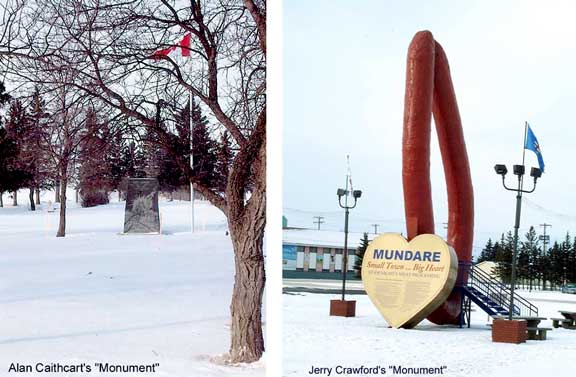 Darlene read an article in the February f-16, the Regina Photo Club's newsletter, authored by Larry Easton: "Tips for Entering Photography Competitions".
The following points are personal experiences from both entering, helping with running of competitions, as well as judging various shows:
Study and understand the rules for the competition. Follow the rules; to not do so could result in disqualification. If the rules are not understood, get clarification from the rules committee.


When selecting images for a competition category or theme, the photo must have a main element or centre of interest that unmistakably fits the competition category. For example, a table top image of a tomato does not fall into a theme category called Industry. A tomato is the by-product of farming such as market gardening, which is a sector of the agricultural industry. The tomato would fit a category such as: Still Life, The Colour Red, or Food, etc. A wild rose falls into a category of Flora but not readily into the Landscape/ Seascape category.


Do not leave the selection of category to the competition organizers.


Most judges will try to stay objective about a photograph, but if presentation mat and frame distract, the photo may not receive the needed attention to place. Stay away from classical and wood frames; these seem to work with paintings. They just seem out of place in a photography competition


Presentation techniques:



Always have a photograph dry mounted if a picture frame is required.


Matting, if used, should always be professionally done.


make sure the image and mat/frame sizes meet rules for entry sizes.


Try to use a title for each entry even if not called for. A suitable title appropriate to the photo can't hurt.


Photos in competitions must be tastefully done so as not to offend anyone, i.e. nudes are not accepted in many amateur competitions, as is the case for the SaskAmateur competition.


If competitions call for any or all of either frames, mats or glass, the presentation should be done to compliment the image but not compete for the attention.



It helps sometimes to know who the judges are so that you may know what their preferences are. However, this information is usually not made available.


Enter categories that have lower entry numbers.


Try to hear the judges critique comments on your entries and those of others to learn some of the points that made winners and losers.


Look at and study Best of Show, 1st, 2nd, 3rd and honourable mentions. Determine what you think makes the photo a winner. Similarly, look at back issues of photo competitions by a particular magazine competition, for their preference to photo types and styles.


Judging criteria generally include:

Impact
Technical (exposure, colour balance, tonal contrast, dust spots/water marks
Composition." We thank Larry Easton and the Regina Photo Club for that useful information.
Darlene advised that we have to judge the Gleneath "Foto Fun" contest; since there wasn't time tonight, she is going to contact some of the other clubs to see what can be arranged.
The Print Display stand was set up and Malcolm Salmond did his usual excellent critique. One of his comments was that ink-jet images should be separated from photographic images for display and judging purposes. For Judge's Choice he selected Jerry Crawford's black-and-white photo of the railway tracks at Englefeld. The prints will be on display at the Doghide River Festival, March 23rd and 24th.
For next meeting, March 26th, we will have the PRPA Travelling Print Salon to view and critique. Theme for the March meeting will be "Bridge".
Gerald B. Crawford
Box 100, Chelan, SK S0E 0N0
(306) 278-3423
Check out my Webpage: http://www3.sk.sympatico.ca/crawg