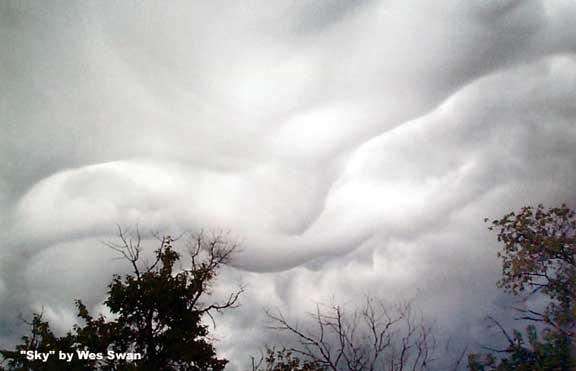 Parkland Photography Club - January, 2003
Greenwater - January 29, 2003 - by: Gerald Crawford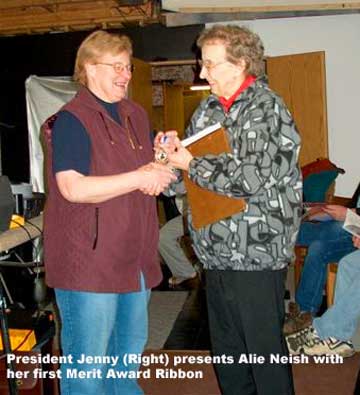 Parkland Photography Club met on January 28th at Fairlight Studio in Tisdale. All fourteen members were present. A warm welcome to new member Marg Paidel!
President Jenny Fritshaw presented Alie Neish with her first Merit Award ribbon. Alan Caithcart photographed the occasion.
A copy of the Nipawin Camera Club newsletter was passed around, a good-looking publication edited by Wes Swan.
Secretary-Treasurer Darlene McCullough read the correspondence. One item of particular interest was an editorial in f-16, the Regina Photo Club's newsletter. It dealt with the controversy about acceptance of digital images in photo competitions, etc. He says:
"Are not the instruments we call cameras, whether analog or digital just a tool or medium to capture an instant in time to preserve a memory, a smile, a dream, our heritage, our natural world or a family vacation. How we capture the image in real time is not relevant. The analog and digital cameras are simply a means to an end - nothing more - nothing less and they both work.

"I believe it is time we move on. Creativity of the photographer should not be judged by the tools of the trade, but by an individual's talent with the end product. Any one can take pictures, photographers make pictures!"
Incidentally, the title of the editorial was "Staying Ahead of the Dinosaurs"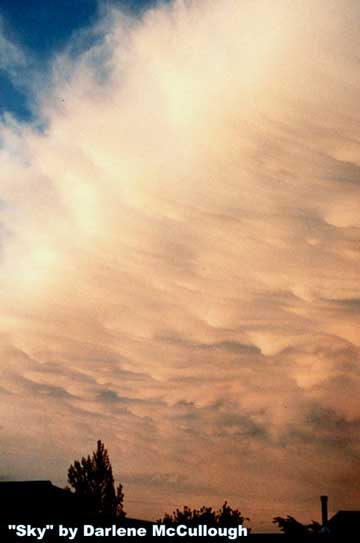 Prints for the PRPA enlargement competitions: deadline is April 15th, so bring them to the March meeting and Darlene will send them away.

Harry Bourne has taken on a neat project: To give some guidance to those thinking about buying a digital camera, he polled the members who have one, asking them to list the points they considered the most useful. He then printed the list and gave copies to Club members. Points to consider ranged from type of storage medium to ability to use accessory lenses to types of batteries. Great project, Harry!

Despite the cold weather, Darlene and Tibby took the Club's slide show to several seniors' residences in January. The event was very well received; everyone is looking forward to seeing next year's show. Members gave Darlene and Tibby a round of applause for their hard work. The slide show is available until late May. If your organization would like to see it, contact any Parkland Photography Club member. We love showing off!

Theme for this meeting was "Sky" and every member had a contribution, thirteen prints and one slide. First prize went to Wes Swan for his photo of a baleful-looking bunch of clouds. Runners up were Darlene's slide of a bright orange cloud bank, and Jenny's photo of white, fluffy clouds against a deep blue sky. (When asked if a recent rain had made the sky so blue, Jenny looked puzzled and said, "Rain? What's that?" She lives northeast of Tisdale.)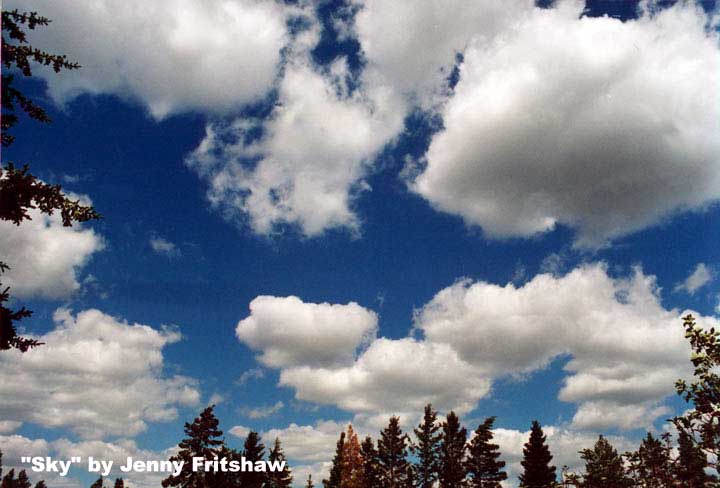 Alan Caithcart showed us his digital camera, which can handle accessory lenses, and demonstrated making print-outs directly from the camera to the printer, via an infra-red interface.
After a delicious lunch, courtesy of Tibby Frazer, Alie Neish showed us some photos taken during a trip to Holland last year. Then Glen showed us what he kept busy at while Alie and Adam were in Holland. Using re-bar, he bent and welded and produced outlines of animals; he taped mini-lights to them and they are quite striking at night.
Then Wes showed us some slides he had taken at the Outdoor Portraiture seminar last June, some excellent photos of the Hingston boys.
Darlene has had no word on whether there will be a Transparency Battle this year, but urged members to bring entries to the February meeting. Our Club can enter eight slides, with no more than two from any one member.
Jenny said to work with light - try different types of lighting, from different directions, and bring the results to the February meeting for discussion.
---
Return to Ensign - Return to Saskatchewan News
This page is a story posted on Ensign and/or Saskatchewan News, both of which are daily web sites offering a variety of material from scenic images, political commentary, information and news. These publications are the work of Faster Than Light Communications . If you would like to comment on this story or you wish to contact the editor of these sites please send us email.
Editor : Timothy W. Shire
Faster Than Light Communication
Box 1776, Tisdale, Saskatchewan, Canada, S0E 1T0
306 873 2004