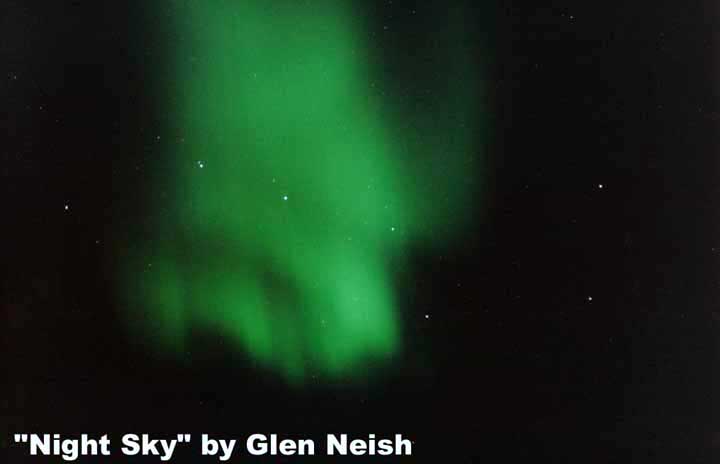 Parkland Photography Club - March 2003
Greenwater - Thursday, March 27, 2003 - by: Gerald Crawford
March 25th, 2003: There were thirteen members present for our March meeting on Tuesday. Jenny, we missed you!
Our Club had agreed to provide photographic coverage for the Relay for Life being held May 30th and 31st. Bob Donnan, for the Canadian Cancer Society, gave us a rundown on events that would require photographic coverage, and showed us a brief video on relays that have been held in the province. Some of our members will provide video coverage, some using digital cameras for still pictures, and some using conventional film. Quite a job! But there are lots of us; no one person should have to carry too big a load.
Darlene listed upcoming competitions and seminars; these were nicely summarized in f-11, the Regina Photo Club's newsletter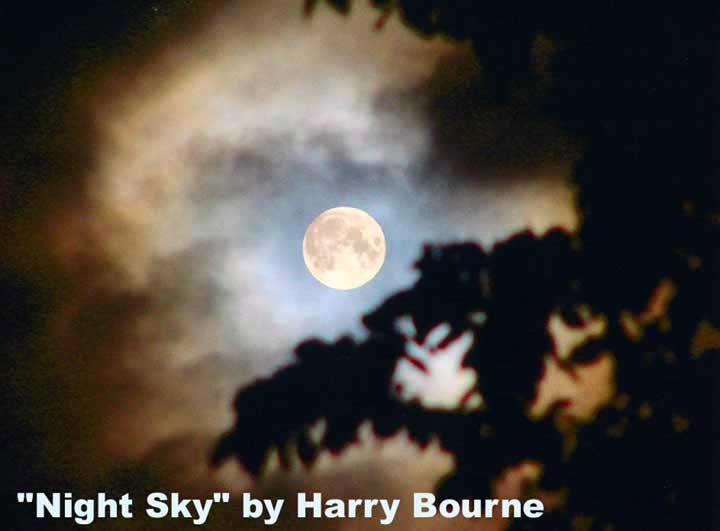 For our Theme, which was "Night Sky", we had six prints and one slide entered. All were impressed at the effort that had gone into the project. It should be noted that the difference in total scores between the first prizewinner and third was 1.5 points - pretty close, considering the first prizewinner got 31.5 points!
Darlene had 75 slides, which represented the top 25% entered in the various PRPA competitions. We did not have to judge them; just view them and, if we wished, critique them. They were without exception excellent photos. Some we found a point or two to carp on, such as: "Overexposed a half-stop", or "Too bad the maker couldn't have cut down that tree on the far right", but most of them were just enjoyed. Mary Wright had an entry that made the top 25%.
Darlene also had eight slides our club members had entered; these were viewed while Darlene read out any comments made by the judges.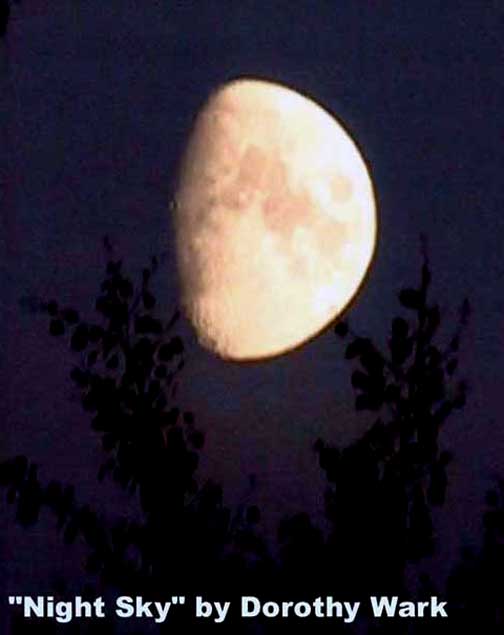 After a delicious lunch supplied by Doreen, we debated whether we should get back basics on lunches before someone drops a piece of blueberry pie on Malcolm's rug. It was agreed that henceforth lunch should consist of one or two varieties of cookies, something that can be eaten with a cup of coffee in the other hand. We loved those lunches, but the waistline complains!

There was some discussion about our June meeting, which always takes to form of a field trip. This year, it will be at the Crawford's place at Greenwater Park, but we will set a date at a later meeting.

There was some discussion on the Club's Merit Point system - we just get it fine-tuned to suit us, and the photography game changes. Digital photography is a new element, as is the mass production of photos using scanners and ink-jet printers. Darlene asked that everyone give the system some thought and bring suggestions to the next meeting.

Our next meeting will be Tuesday, April 29th. Theme is "4-Legged Animal (1 or more)" so that shouldn't give anyone too much trouble.
Gerald B. Crawford
Box 100, Chelan, SK S0E 0N0
(306) 278-2249
Check out my Webpage: http://www.greenwaterreport.com
---
Return to Ensign - Return to Saskatchewan News
This page is a story posted on Ensign and/or Saskatchewan News, both of which are daily web sites offering a variety of material from scenic images, political commentary, information and news. These publications are the work of Faster Than Light Communications . If you would like to comment on this story or you wish to contact the editor of these sites please send us email.
Editor : Timothy W. Shire
Faster Than Light Communication
Box 1776, Tisdale, Saskatchewan, Canada, S0E 1T0
306 873 2004