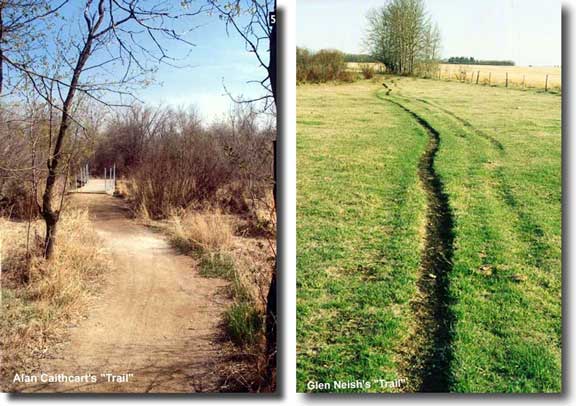 Parkland Photography Club - May, 2002
Tisdale - June 4, 2002 - by: Gerald Crawford
Ten members attended the May 28th meeting of Parkland Photography Club.
Theme for this month was "Trail", and there were six entries. First prize went to Alan Caithcart for his photo of a woodland trail leading to a walking bridge. Runners up were Glen and Alie Neish for their photos of a cow trail across a pasture.
Darlene had received results from four competitions Club members had entered: Gleneath FotoFun, PRPA's Human Portraiture and Attanyi Salon, and the Transparency Battle. Our entries in FotoFun and Transparency Battle were viewed, and Darlene read the judges' comments on each.
May is our month for Club elections - there rarely has to be an election because people volunteer for the various positions. For the next Club year, officers will be:
President - Jenny Fritshaw;


Vice-President - Jerry Crawford;


Secretary-Treasurer - Darlene McCullough;


Newsletter - Jerry Crawford.
It was decided to do away with the Activities Committee; our Club is small enough that the officers, with help from the members, can arrange the activities.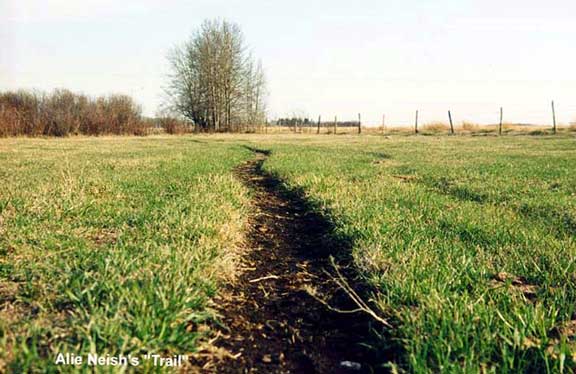 Computer-manipulated prints were discussed; while the members would all like to see the results of computer manipulation, they should not be entered in Theme Shoots. This does not exclude digital images that have had usual darkroom enhancements done, such as cropping and adjusting for brightness and contrast; just those where elements have been removed or introduced so that the image is substantially altered.
Themes were selected for the next Club year. They are:
| | |
| --- | --- |
| September - "Blossom" (1 or more); | March - "Night Sky"; |
| October - "Leaves"; | April - "4-Legged Animal" (1 or more); |
| November - "Crafty"; | May - "Macro Picture"; |
| January - "Sky"; | June - "Feeding". |
| February - "Incomplete"; | |
Theme entries can be any photo taken from this meeting onward, and not dug out of an old shoe box. Print out a list of the year's themes and carry it in your camera bag.
Another challenge: a 4-Seasons photo - take a photo of the same location in each of the four seasons.
Darlene has made a list of the various competitions and projects members are involved in during the coming year:
Every Month: Theme Shoot photo or slide.

September:
October
November
January
February
June

---

Slides for PRPA Competitions;
Slides for our Club Slide Show to show at Seniors' residences
-
-
Slides for Transparency Battle
Prints to Jerry for making into slides
Enlargements for critique for Doghide River Festival display
Enlargements for Club's display board at Fairlight Studios
Enlargements for the Club's display board at Fairlight Studios
Slides taken in Sask. for Gleneath FotoFun Competition
Postcards, bookmarks, etc. for sale at Doghide River Festival
Club Field Trip
Entries of slides or photos taken at the June PRPA Outing
Enlargements for PRPA Print competitions
PRPA Outing
Our June meeting will be held on June 25th, starting at 7pm, but the location will be Harry Bourne's yard. We will take a few pictures around the yard, then have some coffee and goodies.
Gerald B. Crawford
Box 100, Chelan, SK S0E 0N0
(306) 278-3423
Check out my Webpage: http://www3.sk.sympatico.ca/crawg