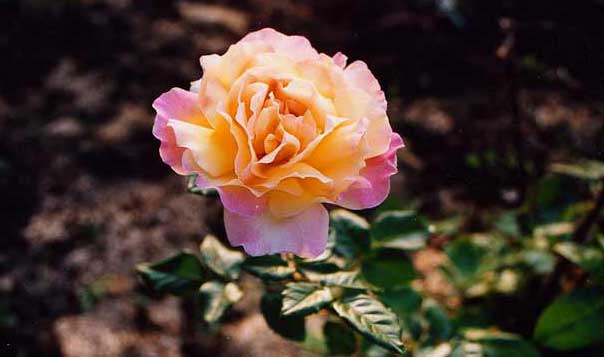 Parkland Photography Club - September, 2002
Tisdale - September 27, 2002 - by: Gerald Crawford
September 24th, 2002: Our September meeting was well attended - all thirteen members were there. A warm welcome to new member, Dorothy Wark, of Nipawin.
The Canadian Cancer Society's "Relay for Life" will be held the last weekend of May next year, and our Club has been asked to provide photo and video coverage. Seven members undertook to do the job, on film, digital, and video. In the "Relay for Life", survivors of cancer, in groups of ten, undertake to walk all night. Each is sponsored, and the proceeds go to Cancer research.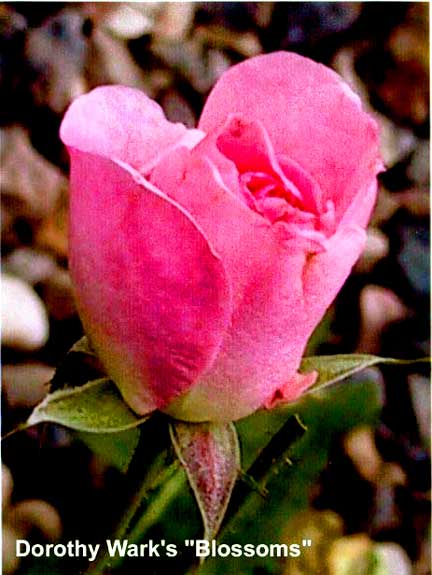 Darlene collected slides from members for entry in the various contests we can participate in. There were three entries for Gleneath's Foto Fun, seven for PRPA's Everest Trophy, and two for the Travelling Salon.

Next meeting, we will be judging entries by PRPA members to a contest sponsored by our Club. Entries are slides or prints taken at PRPA's Annual Outing, which took place at Greenwater Park in June. We don't know yet how many entries we will be judging, as the contest doesn't close until about October 20th. There was good attendance at the Outing, and lots of film was used up, so we expect over a hundred entries.

Darlene reminded Members that we need slides for the Club's Slide Show. The Slide Show can be up to 160 slides, so we can use fifteen or twenty from each member. Bring them to the October meeting, and pick up your slides from the last Slide Show.

The Slide Show is one of the Club's major projects; we take the Slide Show to Senior's residences, or anywhere else that we are invited to.
We also need some fresh material for the Club's Print Display Stand, at Fairlight Studio and Gallery.
After a brief business review, we held our regular Theme Shoot. Theme for this meeting was "Blossom(s)" and we had eleven prints entered. First went to Alie Neish for her dramatic photo of a sunflower; runners-up were Dorothy Wark's photo of a rose, and Mary Wright's photo of a rose.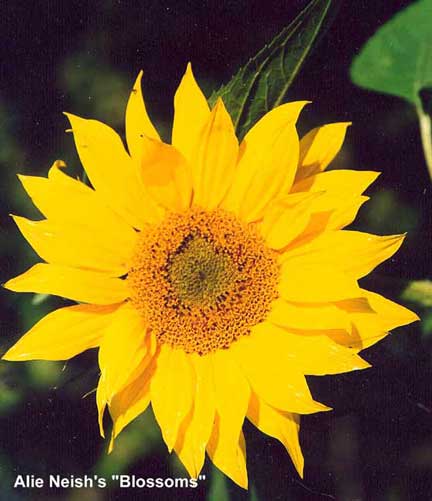 After a delightful lunch, courtesy of Jenny, we went through all the Theme entries, critiquing each one, and saying what would have made the print more attractive to us.

Jenny reminded members of our Four Season Challenge - each member to take a photo of the same subject in each of the four seasons. Time is a-wastin', summer is already gone, so get on it, Members!

Darlene showed us some photos she took at our June outing.

New member Dorothy Wark showed us some work she has done. Dorothy loves the North, and travels around from lake to lake as much as she can. She takes a lot of excellent pictures, both on film and digital, and puts the results together in the form of a booklet. She incorporates special effects, such as merging mirror images of selected images, eye-catching graphics, the story of her trip, and some of her own verse, all printed on photographic-quality paper on her own ink-jet printer. The result is stunning! She also proofs her photos, six to a page, so that the individual images are large enough for appraising without needing a magnifier. She brings some most welcome original ideas and fine work to the Club!
Theme for our October 29th is "Leaves", a very timely theme.
Gerald B. Crawford
Box 100, Chelan, SK S0E 0N0
(306) 278-3423
Check out my Webpage: http://www3.sk.sympatico.ca/crawg
---
Return to Ensign - Return to Saskatchewan News
This page is a story posted on Ensign and/or Saskatchewan News, both of which are daily web sites offering a variety of material from scenic images, political commentary, information and news. These publications are the work of Faster Than Light Communications . If you would like to comment on this story or you wish to contact the editor of these sites please send us email.
Editor : Timothy W. Shire
Faster Than Light Communication
Box 1776, Tisdale, Saskatchewan, Canada, S0E 1T0
306 873 2004